Voters in England have been urged to check they will be able to take part in this year's local elections, with polling day exactly one month away.
Anyone hoping to cast a ballot will not only need to be registered to vote but also display a form of photo identification, which is compulsory in England for the first time.
Not all types of photo ID will be accepted, but a passport or driving licence are valid.
Anyone without the correct identification needs to apply for a special certificate by April 25, while the deadline to register to vote is April 17.
Polls are also taking place to choose mayors in Bedford, Leicester, Mansfield and Middlesbrough.
Rishi Sunak will be hoping to keep Conservative losses to a minimum, in what is his first big electoral test as Prime Minister.
Labour leader Sir Keir Starmer and Liberal Democrat leader Sir Ed Davey will be judged on whether their parties are able to make gains at the expense of the Tories, while smaller groups such as the Greens, residents' associations and independents will hope to cause surprises and upsets.
Craig Westwood, director of communications at the Electoral Commission, told the PA news agency: "The elections are quickly approaching and there a few steps that voters should take to be ready.
"Firstly, everyone must be registered to vote, and the deadline for applying is midnight on April 17.
"For the first time in England, voters will need to show photographic ID before they receive a ballot paper in a polling station.
"There are a range of IDs that can be used, and the full list can be found on the Electoral Commission's website. We encourage everyone to check now that they have an accepted form of ID.
"Anyone that does not can apply for a free ID, known as the Voter Authority Certificate. This can be done quickly online or by submitting a paper form to your local authority. The deadline for applying is 5pm on April 25.
"It is important that everyone makes sure they have an accepted form of ID if they intend to vote at a polling station. Postal voting is not affected by the new ID requirement."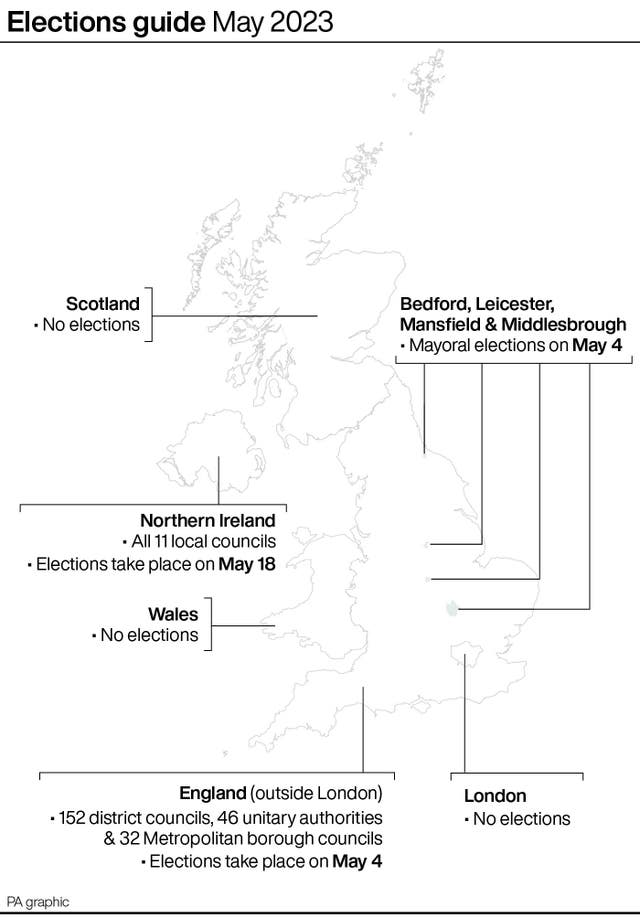 Compulsory photo ID will "protect the integrity of democracy in the UK" and "ensure the electoral system remains secure, transparent and fair for generations to come", the Government said when the proposals became law in April 2022.
Campaign groups the Electoral Reform Society and Unlock Democracy have warned as many as two million people in Britain do not currently have the right form of ID to vote.
An average of 922 applications per day for a Voter Authority Certificate were made online in England in the week to April 2, up from 803 the previous week, according to PA analysis of Government data.
A total of 36,089 applications have been submitted online in England since February 1.
As well as London and Birmingham, areas not holding elections on May 4 include Cornwall, North Yorkshire and Cumbria.
No elections are taking place in Scotland and Wales this year.
Local elections in Northern Ireland have been put back two weeks to May 18, to avoid a clash with the King's coronation on May 6.
Counting in Northern Ireland usually takes a couple of days to complete, due to the system of voting used for council elections, which sees voters rank candidates in order of preference.
Photo ID became law in Northern Ireland in 2002.