A man accused of murdering his pregnant wife by pushing her off Edinburgh's Arthur's Seat did not show much of a reaction to being told she had died, a court heard.
Kashif Anwar, 29, is accused of murdering Fawziyah Javed, 31, in September 2021 by pushing her from the hill, causing her multiple blunt force injuries and ultimately her death, and that of her unborn child.
Anwar, from Leeds, denies all the charges against him, including one of acting in a threatening and abusive way towards his wife at a hotel in Edinburgh the day before the alleged murder.
Police Constable Sean Henderson told the High Court in Edinburgh on Monday that the accused was taken to Gayfield Square police station after his wife's fall and, at about 12.45am the next day, was told of her death.
After being told of his wife's death, he told Pc Henderson: "I know how this looks. We had our problems as a couple, but…"
The court was told Anwar never finished what he was saying as more officers entered the room and he was arrested on suspicion of murder.
Pc Henderson told the trial, which is in its fourth day: "From start to near finish he was very calm and composed throughout.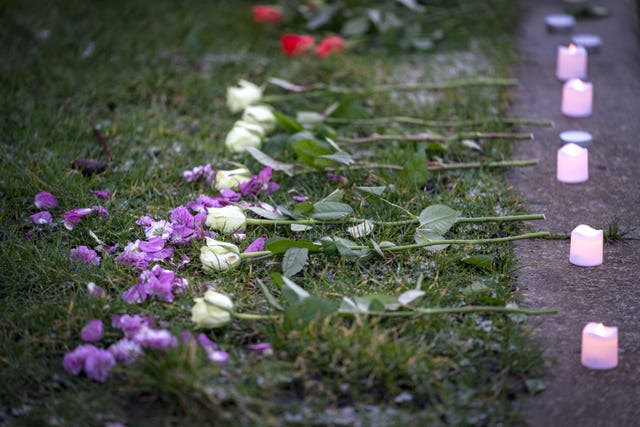 Ian Duguid KC, defending Anwar, played the court a 999 recording on which his client could be heard shouting down to people who had got to where his wife was, asking how she was to relay back to the ambulance service.
Pc Henderson said during the call there were parts where he was calm but other parts where he was more animated.
Mr Duguid put it to Pc Henderson that Anwar's behaviour could have been explained because his client was confident his wife was alive, and that Anwar had not been told about his wife's death until later after.
But Pc Henderson said Anwar overheard the loud fire service radio on the hillside, which described her worsening condition.
The jury also heard evidence from Detective Constable Steven Cavallero.
During the detective's evidence, the court was told while Anwar was in custody at St Leonard's Police Station, he asked if he would get bail, about Edinburgh's prison, and asked: "How many years do you think I will get. Double figures? Maybe 15 to 20 years you reckon? That's a long time."
The jury was a selfie of the the accused and his wife, taken at 8.29pm on the hill on September 2, the day of the alleged murder, and Mr Dugrid asked Dc Cavallero: "You basically came to your own conclusion about it without bothering to listen to his explanation."
Firefighter Sean Stratford was one of the emergency responders dispatched to the scene just after 9pm on the day.
He told the trial that rescue crews could not find Ms Javed when they arrived but a man approached them to assist and pointed out the area.
The firefighter said he could not remember if the man identified himself as the injured woman's husband or not.
Mr Stratford told the court: "He said that he stood up to take a selfie, he slipped and bumped her and she had fallen."
The trial, before Lord Beckett, continues.