The Queen Consort enjoyed at day at Cheltenham Festival despite rainy conditions on Wednesday.
Camilla was among many who came smartly dressed despite the Jockey Club easing restrictions on what people can wear to its courses.
The royal sported a camel hat and a silver brooch, featuring a galloping horse and rider, which belonged to the late Queen.
Weather conditions at the Gloucestershire event on Wednesday, traditionally known as Ladies' Day, started off as dry but became cloudy and then rainy by the afternoon.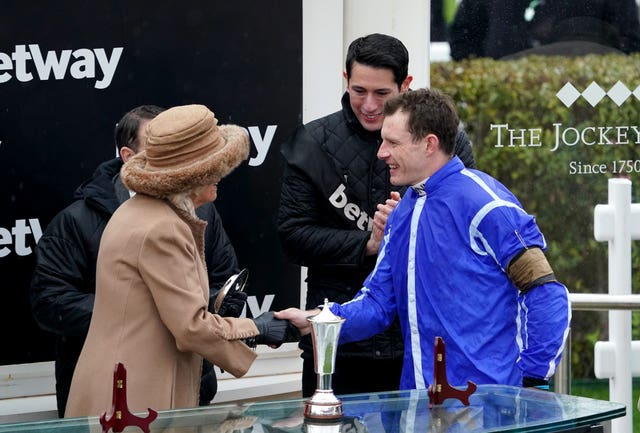 "I think she is having a very enjoyable time," Mr Renton said.
"She enjoys horse racing. I am aware she has had one winner already today.
"It is hugely important that the royal family continue to support racing."
Camilla, an honorary member of the Jockey Club, arrived at the packed site – which is capped at 68,500 spectators each day – by car on Wednesday morning.
She was met by Edward Gillespie, the lord-lieutenant of Gloucestershire, who introduced her to Oli Christie, the deputy lord-lieutenant, as well as racecourse chairman Martin St Quinton and Mr Renton.
After walking to the Princess Royal Stand, Camilla went into the royal box where she watched the first three races of the day.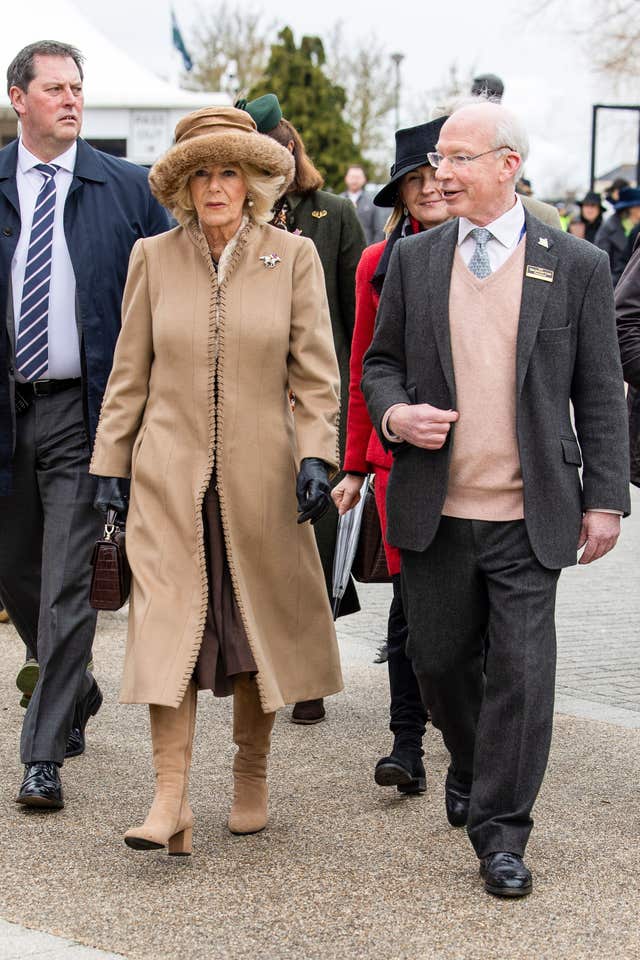 Kay Bamford, 42, spoke to Camilla before the race, which is the championship event for two mile chasers.
"We just spoke about the horses really," she said.
"She asked me why I was here. I told her we have flat horses in training. We may have a runner at Ascot this year.
"She said she may too so we may meet again. It is nice to be able to go up to people and share the love of horse racing in such a lovely environment, even if the weather isn't the greatest today."
When asked whether Camilla asked for any racing tips, Mrs Bamford replied: "I think she knows her own mind.
"She is a fellow lover of horse racing. I think she said she may have put a few pennies on Edwardstone."
This year, Camilla presented the trophies after Energumene romped to victory for the second year in a row, to the delight of trainer Willie Mullins and jockey Paul Townend.
She presented the trophies to Mr Mullins and Townend, as well as Energumene's owner Tony Bloom, also the owner of Brighton & Hove Albion Football Club.
As the Duchess of Cornwall, Camilla was associated with several equine charities including the British Equestrian Federation, the Brooke Hospital for Animals and Ebony Horse Club.
Before this year, there was no formal dress code for Cheltenham Festival – with people instead told to dress appropriately for the weather.
However, the Jockey Club has now issued guidance urging people to come "dressed to feel your best", whether that be in a sweatshirt and jeans or a glamorous dress and high heels.