Island communities feel "aggrieved" at the failure to deliver ferries which were promised years ago, Kate Forbes has said.
The SNP leadership contender, who is the MSP for Skye, Lochaber and Badenoch, said the situation around the long-delayed Ferguson Marine ferries is "completely unacceptable".
She said procurement needs to be restarted and she stressed the importance of acquiring new vessels quickly.
It emerged this week that managers at the shipyard were paid bonuses despite a lack of certainty over the cost and delivery date of two over-budget and late ferries.
Audit Scotland said six managers at the yard had been handed a total of £87,000 in bonuses for the year 2021-22, without Government knowledge.
She told the PA news agency: "The whole process has been completely unacceptable and it is my constituents who are due to be served by at least one of those vessels that are currently in Ferguson Marine's shipyard.
"Getting those vessels out as quickly as possible is required. We absolutely need to restart with procurement.
"Steps have already been made in that regard as Audit Scotland have reported, but we need to ensure that ferries are built quickly.
"It's about delivering a lifeline service to our communities."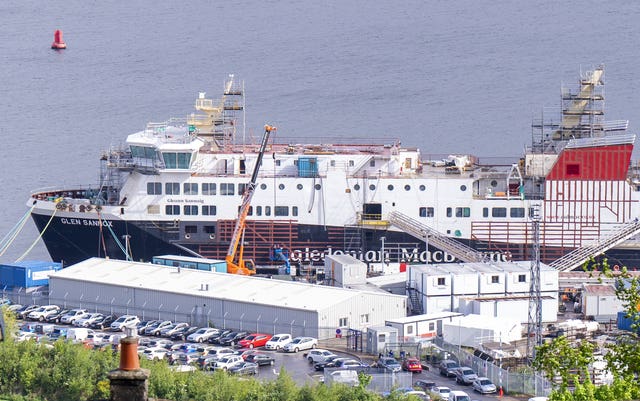 She said: "Having represented an island community myself, I hear the concerns that have been expressed and if you believe truly in all of Scotland flourishing and thriving, that includes our island communities, and they need infrastructure.
"There would be an absolute outrage if a key road in the middle of Glasgow was blocked for years on end.
"That's the equivalent of what's happened with some of our island communities, so we do need to hear that level of outrage but also fix things so they're never repeated again.
"I think any community that has been waiting years for a ferry that was promised five years ago would feel aggrieved.
"This is not just about political impact, this is about people who have not been able to get to funerals, to weddings, to healthcare because of the lack of a sustainable service."