Britons are set for another cold blast as snow, ice and strong winds are set to hit parts of the nation.
The Met Office issued a yellow warning for strong winds across central and southern parts of England  on Monday as gusts of up to 55mph were forecast to be felt across many areas and up to 65 mph across coastal areas and hills.
The warning covers the East and West Midlands, the South West and the East, along with London and the South East, plus Monmouthshire in Wales.
Yellow warnings for snow and ice across are also in place for across Scotland.
Residents will have to deal with rain, sleet and snow followed by ice which is likely to have some impact on travel, according to the forecasters.
The Met Office said that snow and ice across "much of Scotland" on  Monday morning and that "outbreaks" of rain and strong winds are set for England, Wales and Northern Ireland.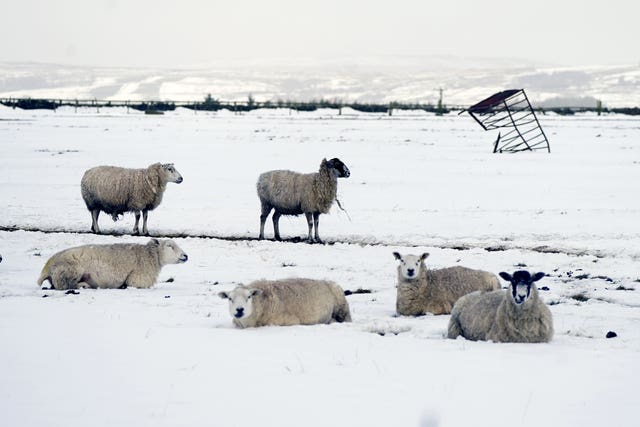 By the Monday morning rush hour there were more than 60 flood alerts along with five warnings that flooding was expected.
The prospect of wintry showers and partially melted snow freezing on untreated surfaces and turning them into icy stretches was also raised for people in Scotland, Northern Ireland, northern England and north Wales, where a yellow warning for snow and ice is set to run until Tuesday morning.
The Met Office said: "Cold air spreading southwards across the UK, following a band of rain, sleet and snow, will bring frequent snow showers to northern, western, and eastern Scotland, as well as parts of Northern Ireland.
"Overnight, these will accumulate on some roads and pavements, with anywhere between a light dusting and several cm of snow possible.
"Between the showers, partially melted snow is likely to freeze on untreated surfaces leading to icy stretches.
"Wintry showers will continue through Tuesday, although by mid-morning the temperature on most roads will likely have risen sufficiently to reduce the risk of further accumulating snow or ice."