Joe Biden said he intends to visit Northern Ireland after being invited to mark the anniversary of the Good Friday Agreement.
The US president was formally invited by Rishi Sunak as the pair met for talks in San Diego, California.
Mr Sunak revealed that Mr Biden had also invited him to visit Washington DC in June.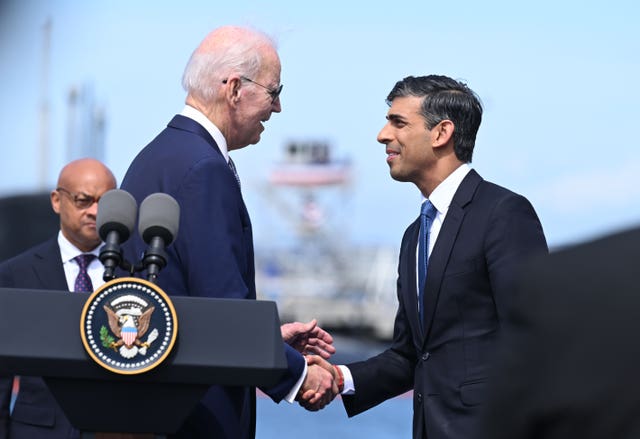 Mr Sunak told the president: "I look forward to our conversations and also importantly, to invite you to Northern Ireland, which hopefully you will be able to do and so we can commemorate the anniversary of the Good Friday Agreement.
"I know it's something very special and personal to you. we'd love to have you over."
The US president joked about Mr Sunak's home in Santa Monica as the pair met following the announcement of the Aukus submarine pact.
"First of all, I want to welcome you back to California. He's a Stanford man, and he still has a home here in California," he said.
"That's why I'm being very nice to you, maybe you can invite me to your home in California. But all kidding aside, I think it's an historic day for our countries."
Following the talks, Mr Sunak told reporters: "It's great that we're going to see each other a lot over the next few months.
"I was pleased to accept the president's invitation to visit him in DC in June."