MPs are set to vote on the Brexit deal on trading arrangements for Northern Ireland by the end of the month, a minister has suggested.
Northern Ireland Secretary Chris Heaton-Harris said the vote in Parliament would likely be within the next two to three weeks.
Mr Heaton-Harris was commenting as he visited businesses in the region to promote the Windsor Framework struck by Prime Minister Rishi Sunak and the EU.
The framework will reduce the volume of Brexit red tape on the movement of GB goods bound for Northern Ireland that was created by the contentious Northern Ireland Protocol.
The DUP, which collapsed powersharing in Northern Ireland in protest at the protocol, has yet to decide whether to back the Windsor Framework and return to devolution.
Mr Sunak has promised that MPs would get a say on the deal he sealed with Brussels and Mr Heaton-Harris said that moment should come by the end of the month.
On a visit to a garden centre on the outskirts of Belfast, he told reporters: "There's some European processes that also are happening. So, the European Parliament have its say on this, I believe, next week, and then I think there's one more stage in the European political sphere for it to go through, so that'll be in the next two or three weeks.
"We will be having a vote in Parliament on a similar timetable."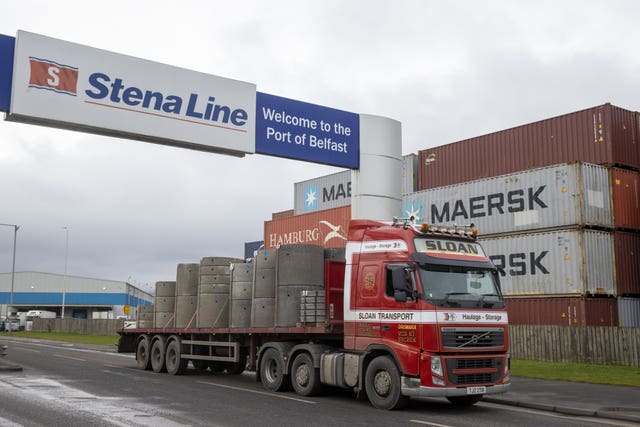 "What I think we're going to do is actually publish a statutory instrument in the next couple of weeks that will demonstrate what we say it's going to do, it will do," he said.
"So, the mechanism by which it can be triggered, and when it is triggered, what that means for the Government.
"What we think it means, and what is shown in legislation, is that when the brake is pulled – because a piece of EU law, that may be amending something, a new piece of legislation that would affect the 3% of EU law that remains applicable in Northern Ireland – well, if it's pulled, then it is disapplied immediately on the brake being pulled.
"It goes to the joint committee where the UK Government will be bound to veto based on the conditions that you've seen in the papers we've published, but we're trying to make sure that people can see it in black and white, so they understand exactly what it is."
Earlier this week, the DUP established a consultation panel to inform its deliberations on the new deal on post-Brexit trading arrangements.
Former DUP leaders and first ministers Peter Robinson and Baroness Arlene Foster are among those on the eight-member panel announced by current leader Sir Jeffrey Donaldson.
Sir Jeffrey has made it clear that the DUP will take its time to consider the framework before deciding whether to back it and lift its current blockade of devolution at Stormont.
The panel will report to him by the end of March – a timeline broadly in line with the suggested vote in Parliament.
"I'm hopeful that the panel will see what we've done for what it is, which is alleviate a huge amount of the issues that were being caused by the protocol," he said.
"We are giving people – you've heard the Prime Minister say only last week – we are giving people plenty of time and space to look at these.
"We're not bouncing people into anything at all. We want people to examine what we've put forward so people know exactly what they're getting."
During his visit to the Hillmount Garden Centre in the Castlereagh Hills outside Belfast, the Secretary of State was pressed on some of the intricacies of the framework.
He insisted that all plants and trees, including species like dogwood and cherry trees, would be able to be ordered from Great Britain to Northern Ireland without issue.
"If a plant is grown in GB, whether it's got soil attached to it … it would have to have a GB plant passport, but that's plants that are grown in my constituency in Northamptonshire, in the middle of England, moving to Leicestershire would have a plant passport. It costs about 12 quid per type of plant, not per seed batch.
"That's it. It can come across. So, yeah, there is no more to it, no less to it, than that. And that's why we need to explain it better."
He conceded there was a need to provide more explanation about the broader deal, saying current scepticism around it was understandable.
"We've got to explain it more. We are talking to businesses or politicians, we're talking to anybody, trying to explain as best we can what the processes will be," he said.
"It's one of the reasons why we have published everything, and we're publishing everything as quick as we can, and giving people time to prepare, time and space to look at it.
"I think people are sceptical and I can quite understand why – that politicians standing up say one thing, but it's not deliberate, I'm quite sure that what the Prime Minister has described, what I've described, is actually what it is."