The King sympathised with pet lovers after Ukrainian refugees speedily reunited with their quarantined animals sent videos of appreciation to thank British workers.
Charles visited the headquarters of the Animal and Plant Health Agency (Apha) in Weybridge, Surrey, where experts combat diseases and pests in animals and plants and maintain a surveillance of possible threats.
Agency staff worked round the clock to ensure safety procedures were followed – to keep out threats like rabies – but ensure dogs and cats were quickly returned to their Ukrainian owners welcomed to the UK after fleeing the war in their homeland.
They have received videos of owners being reunited with their beloved pets – a gesture that was described as making the job "worthwhile" by staff.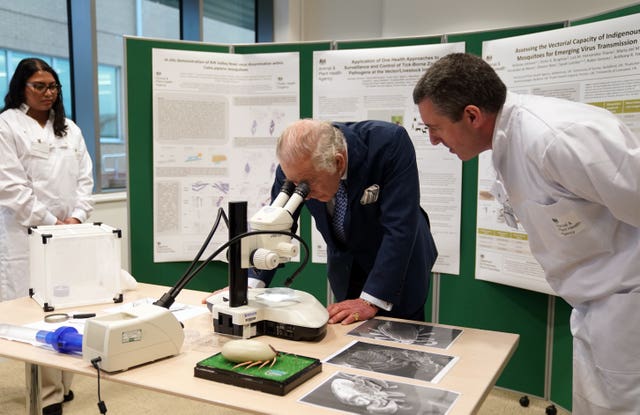 He peered down a microscope at some dead specimens and nearby was a small tent that was home to some live insects.
And he thanked staff for their work, especially their efforts combating Avian flu, which has been kept under control by the testing for the virus in suspect birds 24 hours a day, seven days a week.
In an impromptu speech, the King said: "I'm full of admiration for what you do, what you manage to achieve against these huge challenges in all directions, I know many have been working such late hours for days and days.
"So I can only say you are totally heroic, we're incredibly lucky to have you battling away for our safety and our future."
Around 2,500 pets have been reunited with their owners and Emily Perry, head of international trading in endangered species and the Ukrainian pets initiative, said they had received videos showing some of those moments.
She said: "They lost everything, so to see them being united with their pets we all feel it makes this job worthwhile."
Speaking about the King, she added: "He said 'we all love our pets' so he could understand being an animal lover."