Britain's biggest rail union has been urged to call off next week's strikes at train companies after suspending industrial action at Network Rail.
The Rail Delivery Group (RDG), which represents operators, called on to the Rail, Maritime and Transport union (RMT) to "meet us for urgent talks".
The RMT has been engaged in national rail strikes in a row over jobs, pay and conditions since June last year, frequently decimating services.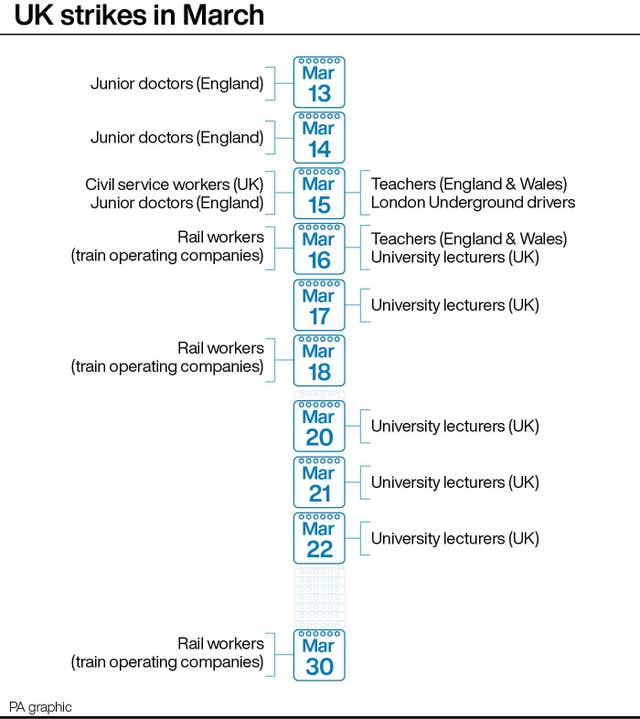 Workers were due to strike at Network Rail on March 16.
But in a surprise development on Tuesday night, the RMT announced the suspension of its action at the Government-owned company and committed to holding a ballot on "a new offer from the employer".
A strike by RMT members at 14 operators is still scheduled to take place on March 16, 18 and 30 and April 1, and is expected to cause major disruption.
An RDG spokesman said: "The RMT leadership's decision to put Network Rail's deal to its membership is a welcome development, but train operating staff will rightly be asking why their union continues to deny them the opportunity to have their say on our equivalent offer.
"Instead of inflicting more lost pay on its members and disruption to our passengers, we are calling on the union to call off their strikes and meet us for urgent talks to resolve this dispute."
The RDG said its offer includes pay rises of at least 5% for 2022 and 4% for this year, with a lump sum payment for last year's increase.
The Government and the rail industry insist reforms to working practices are needed to afford higher salaries as the sector's finances have been badly affected by the drop in passengers caused by the coronavirus pandemic.
The Department for Transport (DfT) heavily influences the financial decisions of train companies after taking on their revenue risks due to the virus crisis.
Network Rail chief executive Andrew Haines said: "We are relieved for our people, passengers and freight customers that industrial action in Network Rail has now been suspended.
"We look forward to further information on plans for a referendum."
A DfT spokeswoman said: "It is positive news that the RMT has finally put this offer to their members and have called off upcoming industrial action by Network Rail workers.
"The RMT's leaders must now put the best and final offer to their members in the train operating companies, who are still due to strike in the coming weeks and who are not being given the opportunity to vote on an offer."