A long-serving regional television anchor has told how he "fell into journalism" as he received an MBE from the Princess Royal at Windsor Castle.
Former ITV Central presenter Bob Warman, 76, was given the award by Anne for services to broadcasting and journalism in the West Midlands.
The journalist, who spent 50 years with ITV before retiring last summer, told the PA news agency that his life might have been very different had he continued pursuing civil engineering after school.
He said: "I didn't have a very promising start to my adult life. My school reports were appalling, full of things like 'could try harder'.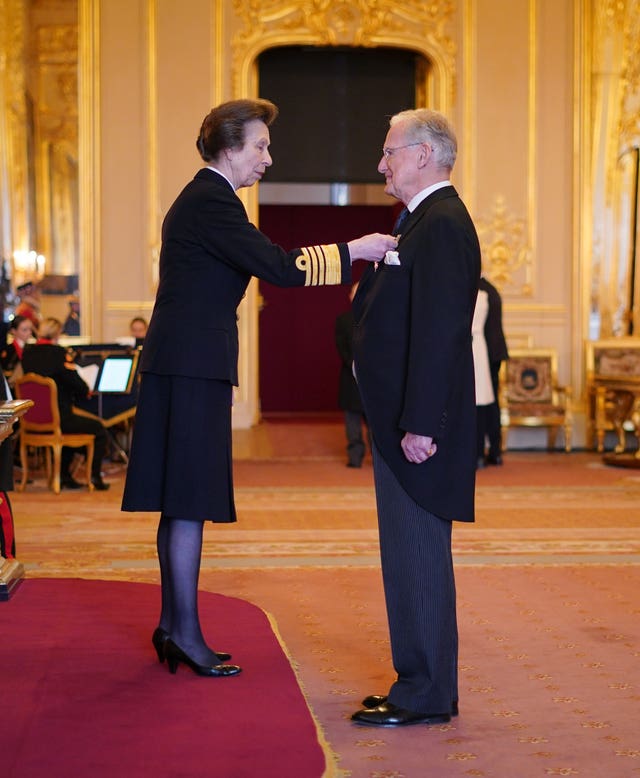 "It has given me a really wonderful, wonderful life.
"I have met so many very interesting people, I have got involved in some very interesting organisations and I've seen things and experienced things which I would not normally have done had I not been in journalism.
"As my first editor said to me, you may not become a millionaire but you will live like one."
On receiving the MBE, he added: "I have just completed 50 years at ITV and I retired a few months ago in July so I think I am the longest presenter on a particular programme that there has ever been in this country, certainly in local television.
"This has been a wonderful day. To be recognised by your peers is something very special.
"My only regret is that my mother and father are not here – they are not around now to be able to witness this occasion.
"I would love them to have been here because I think they would have been very proud and rather surprised in equal measure."