Scotland's top law officer has told the police to investigate whether the Scottish Prison Service should be prosecuted over the death of a prisoner.
Allan Marshall, 30, was being held on remand at HMP Edinburgh in March 2015 when he suffered a cardiac arrest during a lengthy struggle with staff.
The officers involved were given immunity from prosecution at a fatal accident inquiry examining his death.
The inquiry also found Mr Marshall's death was "entirely preventable".
His family has been campaigning for his death to be further investigated to help prevent any other families from being in their position.
Ms Bain said: "I am grateful for the meeting with Allan Marshall's family and for the opportunity to update them personally on further inquiries I instructed.
"I have the utmost respect for their desire to have answers for their questions about Allan's death.
"I accept that some aspects of the initial casework fell short of what they were entitled to expect.
"Since Allan's death, the way in which custody death cases are handled by the Procurator Fiscal has been reviewed and transformed.
"I am confident that new structures and processes in place will ensure that all death in custody cases are undertaken rigorously, respectfully and compassionately."
A Crown Office and Procurator Fiscal Service (COPFS) spokesman said: "A previous decision not to prosecute individual prison officers cannot be reversed.
"The Lord Advocate has instructed that Police Scotland should investigate possible corporate responsibility by the Scottish Prison Service."
The prosecution service said it has "learned lessons" from Mr Marshall's death and has created a team to investigate deaths in custody, involving staff with specialisation in homicide, sudden fatality and health and safety investigations.
Following the Lord Advocate's decision, Mr Marshall's brother, Alistair Marshall, spoke out on his brother's death for the first time.
He told BBC Scotland he is relieved the prosecution service is looking to hold the prison service to account but angry at the time taken for this to happen.
Alistair Marshall said: "People should have done their jobs right from the start."
He remembers his younger brother as "mischievous, adventurous, and energetic", and said: "He always wanted to have a life of fun and always brought people together – all the cousins, the brothers and other friends. It is not the same now Allan's not here."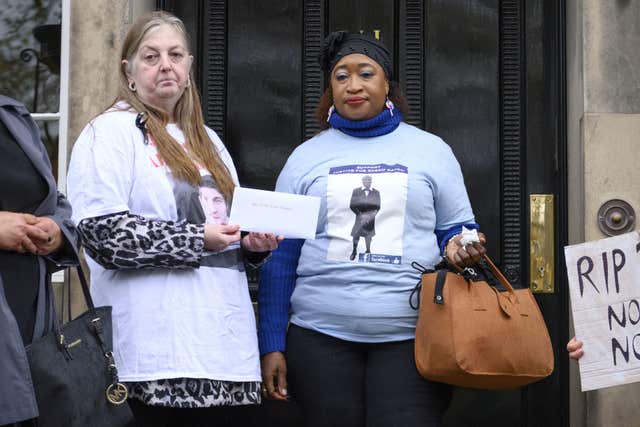 She told the broadcaster: "He only had five days to go (on remand) when this happened… It is unbelievable."
Ms MacFadyen added: "I don't want this to happen to anyone else.
"He has got a son and daughter and they don't even know their dad."
A Scottish Prison Service spokesman said: "Our thoughts remain with Mr Marshall's family. We will co-operate with any investigation undertaken by Police Scotland."
A Police Scotland spokeswoman said: "We have received instruction from the Lord Advocate to investigate possible corporate responsibility by the Scottish Prison Service.
"We are not able to comment further at this time due to the live nature of this investigation."