Notorious prisoner Charles Bronson is locked in his cell for 23 hours a day and gets letters from 500 people while behind bars, his parole review heard.
One of the UK's longest serving prisoners, he is allowed to leave his cell for one hour for exercise or other activities each day due to staff shortages, the Parole Board hearing which opened on Monday was told.
A panel of parole judges heard there are 500 people on a mailing list who write to Bronson in jail but he does not always reply.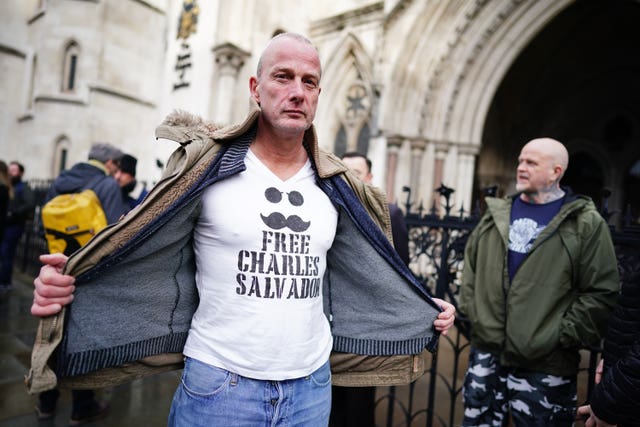 Bronson is the second inmate in UK legal history to have his case heard in public after rules changed last year in a bid to remove the secrecy around the process.
The Parole Board will decide whether he should remain behind bars after the hearing, which is taking place over three days this week. A decision is due at a later date.
Members of the press and public watched the proceedings – taking place in HMP Woodhill in Milton Keynes – on a live stream from the Royal Courts of Justice in central London.
Dubbed one of Britain's most violent offenders, Bronson – who changed his surname to Salvador in 2014 after the artist Salvador Dali – appeared on camera sat opposite the parole judges wearing a black suit and tie, a white shirt, braces and dark glasses.
His prison offender manager said they would worry that Bronson would be overwhelmed in open conditions at a lower security prison, but that he has started learning breathing exercises and coping methods such as asking for time out in his cell in preparation for any future move.
They said: "Charlie's used to a lot of solitary time anyway. He doesn't enjoy it … but he copes quite well. He has his exercises, he has his routines," adding that he "kind of loses himself in his artwork" – something he has become known for while in jail.
He "finds that he doesn't ruminate as much as he used to overnight," the prison worker said.
In a Channel 4 programme which aired last week, Bronson said he can "smell and taste freedom" ahead of the parole review.
The parole panel chairman told the hearing: "The panel has not seen that documentary."
But Bronson replied: "I find that hard to believe."
When asked if he wished to give evidence at the hearing, the 70-year-old – who could be heard frequently swearing and sighing loudly – said: "Oh yes, certainly."
At one point he muttered "f****** hell" under his breath as the review heard how submissions on behalf of Justice Secretary Dominic Raab had been delayed and could not be provided in advance of the proceedings to the parole board as a result.
A representative for Mr Raab who was present at the hearing apologised for the delays.
On the sometimes grainy footage Bronson, who had been sipping what appeared to be a small carton of juice through a straw, was seen briefly standing up during the hearing and began asking for a tissue.
"I haven't pissed myself," he told the hearing as he placed the tissue under the juice carton and sat back down.
Amid long pauses while the panel asked his prisoner offender manager questions, Bronson said: "We will be here all f****** day, won't we?"