Riders used their pedal power in a protest calling for cycling to be made safer for women in London.
Laps of central London – starting and ending at Marble Arch and taking in Buckingham Palace, Whitehall and Trafalgar Square – were enjoyed by hundreds who want to see cycling used equally by men and women in the capital by 2030.
The ride was organised by the London Cycling Campaign's (LCC) Women's Network ahead of International Women's Day, along with the Joyriders women's cycling organisation and the Londra Bisiklet Kulubu, which is a riding group mainly run by and for members of London's Turkish/Kurdish community.
Eilidh Murray, of the LCC Women's Network steering group, said: "As women from a range of backgrounds, we know being able to travel cheaply and independently by bike can bring us confidence, health and freedom. But we're being put off cycling by a lack of safe routes, dangerous driving, harassment and more. We need the mayor to make using a bike a safe, everyday choice."
Less than a third of London's cycle trips are by women, despite being 51% of the population, according to LCC.
The LCC said women feel more comfortable cycling in protected lanes than men and they also appear to have a higher rate of "near misses" such as drivers passing too close.
The protest ride was part of LCC's call on London mayor Sadiq Khan to address the physical and social safety of cyclists.
They are also calling for local cycle networks, such as low traffic neighbourhoods and safe routes to schools, to be given the same priority as cycle corridors into central London.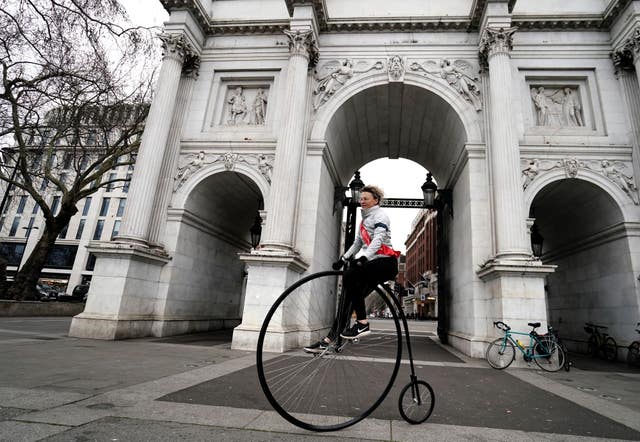 "We must continue to break down the barriers to cycling faced by women and girls and I'm doing all I can to make active travel around the city as accessible and safe as possible.
"That's why I'm delighted that we've built hundreds of kilometres of new or upgraded cycle routes since the pandemic, introduced e-bikes to the Santander Cycles scheme, and completed work to make some of the capital's most dangerous and intimidating junctions safer.
"London now has over 500 school streets and we've funded training to help more Londoners cycle confidently and safely.
"Increasing cycle safety is crucial to ensuring equal access to all parts of our city, and also means more Londoners are choosing sustainable ways to get around the capital, building a greener, fairer London for all."