The chair of Natural England Tony Juniper said he worries about companies greenwashing "endlessly" after a meeting of international delegates discussing how to use private finance to achieve biodiversity goals.
Hosted by the UK Government, the event saw delegates from international corporations, indigenous groups, financial institutions, civil society and government ministers from around the world meet to discuss using private capital to honour the Cop15 biodiversity agreement made in Montreal, Canada, in December.
The US Special Envoy for Biodiversity and Water Resources, Monica Medina, joined the UK Environment Secretary Therese Coffey at the event on Friday – as did representatives from HSBC, Blackrock, AstraZeneca, WWF and the Amazon Sacred Headwaters Initiative.
In Montreal, delegates set a target of protecting 30% of the world's lands, seas, coasts and inland waters by 2030 and paying for it by mobilising 200 billion US dollars (£167 billion) a year.
Countries also pledged to ensure a flow of 20 billion dollars (£16.5 billion) to developing countries by 2025 – rising to 30 billion dollars (£24.7 billion) by 2030.
He said: "I think it's important for companies in all sectors to look at the overall impacts they're causing on the environment to understand the risks and costs that arise from those impacts for them, as well as society, and then to develop strategies to be able to do something about it.
"And this isn't just about some kind of charitable donation or some kind of marginal project that they can do alongside mainstream business. This is about transforming the core business.
"This does feel like a bit of a turning point because all of this stuff's on the table today and people are talking about it in ways which are getting much more practical. And it wasn't like that 10 years ago, not even two years ago."
Asked whether he worries about companies using these financial agreements to greenwash, he said: "Yes, endlessly.
"Often the easiest thing to do if you're under pressure to do something – which is transformative and which is challenging and which looks costly in the short term – is to come up with something which is more about communications and substance and there's a long track record of that going back 30 years to my certain knowledge."
Delegates were divided into four roundtable discussion groups, focusing on how to attract private finance to support countries' conservation targets, mobilising capital to fund habitat restoration, the benefits of using plant and animal genetic information and scaling up sustainable food systems.
Carlos Manuel Rodriguez, CEO of the Global Environment Facility, described the discussion he chaired as a "very productive session".
He summed up to the other delegates: "One key element that came up in our room is that the private sector is sitting on top of billions, billions of dollars, waiting for government to create the right framework."
Dame Amelia Fawcett, chair of the Royal Botanical Gardens at Kew, said the three overarching themes arising from the talks were the need to accelerate the net-zero transition, the importance of the role of private finance in decarbonisation and the need to scale up "high-integrity investments" along with the flow of finance to achieve global biodiversity goals.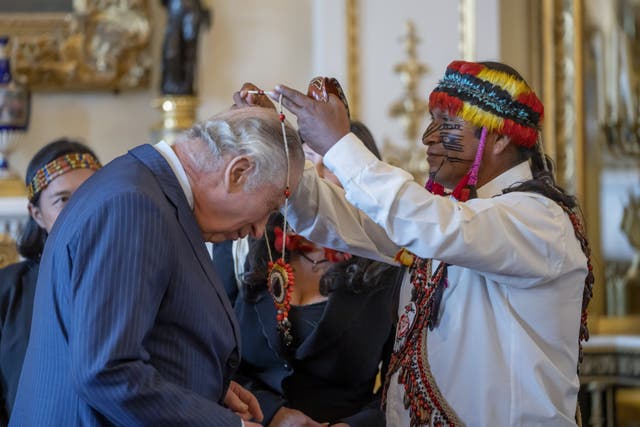 "We are too far down the road of ecological losses for offsetting. Water companies, for example, should be given responsibility for boosting nature across the freshwater environment.
"This means addressing nutrient, chemical, and sewage pollution, alongside restoring nature in the wider catchment areas of rivers."
Tanya Steele, WWF's chief executive, added: "Today's meeting made clear that governments, the private sector and charities all recognise that the ambitious goal for nature set at COP15 in Montreal is just a first step, and what's crucial now is keeping momentum.
"We know our planet is running out of time and we must act now to tackle systemic issues that are driving nature's decline such as how we grow and produce food, as well as ensuring critical funding for our most precious ecosystems.
"Only then can we hope to protect and restore nature and bring our world back to life."