Rishi Sunak has pledged to cut NHS waiting lists as he visited a new clinic aimed at streamlining treatment for patients.
The Prime Minister toured Oldham Community Diagnostic Centre (CDC), where patients can go for quicker access to tests, scans and checks after a referral from a GP, pharmacist or hospital.
The centre is one of 150 CDCs being rolled out across the country to speed up diagnosing and treating patients in community settings rather than through multiple hospital visits.
Mr Sunak said: "At the beginning of the year I made five promises to the country, one of them was to cut waiting lists, and I'm here today to see this fantastic community diagnostic centre in Oldham, which is helping us do exactly that – cutting the waiting list.
"It's really working. It's making a major difference in cutting waiting lists and that's why we're rolling out almost 150 of these across the country."
The Oldham centre opened in December last year and so far the existing 92 CDCs have carried out more than three million potentially lifesaving checks, tests and scans in England since July 2021, according to the Department of Health and Social Care (DHSC).
The DHSC added that the centres have helped in "virtually eliminating" the number of patients waiting over two years for treatment and cutting 18-month waits by more than 50%.
The department announced on Monday that 19 new CDCs will be opened this year, which it says will help tens of thousands of patients across England.
It is understood the additional centres will perform 1.1 million tests, checks and scans every year.
But according to analysis from The King's Fund in October last year, just one in five operational CDCs were actually "in the community".
The King's Fund found that only 17 of the sites were in the "community" – such as in shopping centres or football stadiums – while others were on existing hospital or GP surgery sites.
The DHSC said on Monday that CDCs have already helped reduce NHS backlogs, adding that the centres delivered approximately 5% of all diagnostic activity in November last year.
The CDCs house a range of equipment including MRI, CT, X-ray and ultrasound scanners and offer services including blood tests or heart rhythm and blood pressure monitoring.
The Government has committed £2.3 billion for the launch of up to 160 of the centres by March 2025.
Health Secretary Steve Barclay said: "Rapid diagnosis offers reassurance to patients, reduces waiting lists and, crucially, saves lives.
"CDCs have been fundamental to this effort, delivering over three million extra tests which are helping to diagnose conditions from cancer to lung disease more quickly across the country."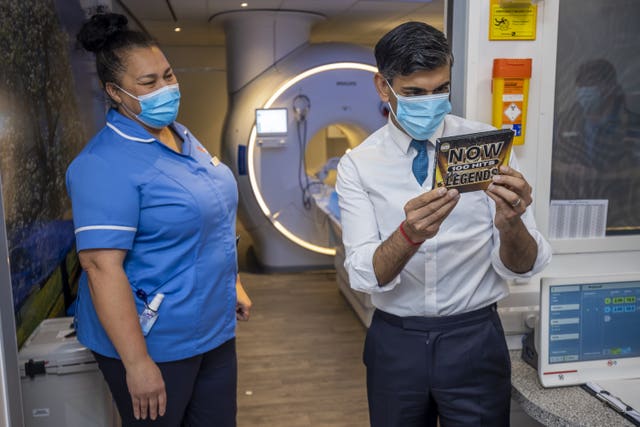 "These 19 new centres will boost access for tens of thousands more patients and build on the great work of NHS staff in recovering services, helping the NHS deliver an extra nine million tests a year by 2025 – an increase in capacity of more than a quarter on pre-pandemic levels."
The CDCs come as part of the elective recovery plan set out by the Government and the NHS to recover NHS services and give patients greater control over their own health.
Dozens of new surgical spaces are also being created to bring down waiting times.