The King was in fine comedic form as he encountered mannequins that "speak", "breathe" and "blink" at pioneering mock hospital wards at the University of East London (UEL).
The monarch visited the university's Stratford campus in east London for its 125th anniversary, unveiling a plaque and opening its new hospital and primary care training hub.
He met student nurses who showed him six different mannequins that can also "bleed" and "urinate", saying: "They are quite realistic, aren't they?"
He also received laughs when joking: "And it works?" after seeing a genuine oxygen pump that would be used to treat a dummy with a chest complaint.
The King had earlier met three infants and their mothers at the hub's baby development lab which researches how living in urban areas affects children's early years.
One of the infants started crying when the King sat down on the sofa, to which he replied: "Oh dear."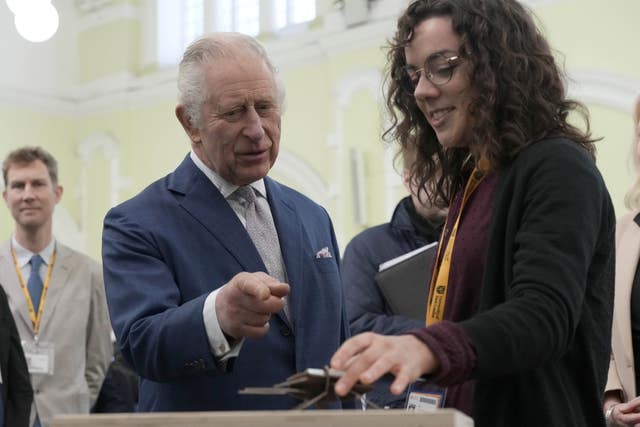 The hub hosts a range of wards that simulate real-life hospital care – including accident and emergency, intensive care and maternity care – and will train future NHS professionals on the university's nursing and physiotherapy courses.
The King was accompanied on the visit by Professor Amanda Broderick, UEL's vice-chancellor and president, and was greeted by several dignitaries when he arrived shortly after midday.
He shook the hands of onlooking students who had waited for hours to see him, one of whom asked: "Can you bring back Harry?"
The King replied: "Who?" after initially mishearing, before bursting into laughter when he understood what the man had said.
During his arrival, a choir of UEL students and year six pupils from the local Sandringham Primary School sang a bespoke composition on sustainability.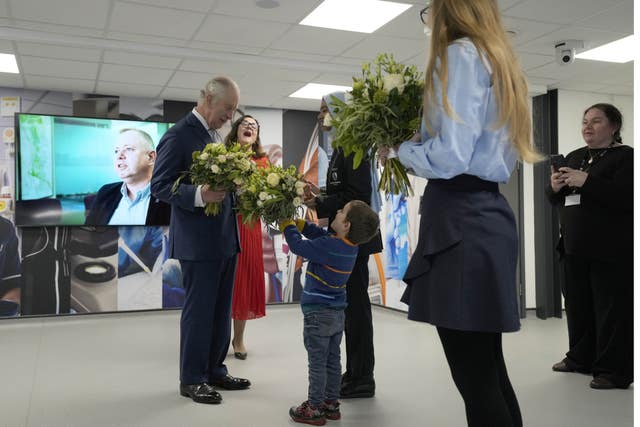 Mr Lambert's pupils had been rehearsing for 12 weeks but were only told they were singing for the King two days ago.
"I kept telling them it was someone very important, but I think they all just thought it was going to be a local politician," Mr Lambert told the PA news agency.
"It has upped their game and upped their performance, I think."
The King later visited the university's great hall for a sustainability exhibition, meeting students, staff and entrepreneurs whose work was on display.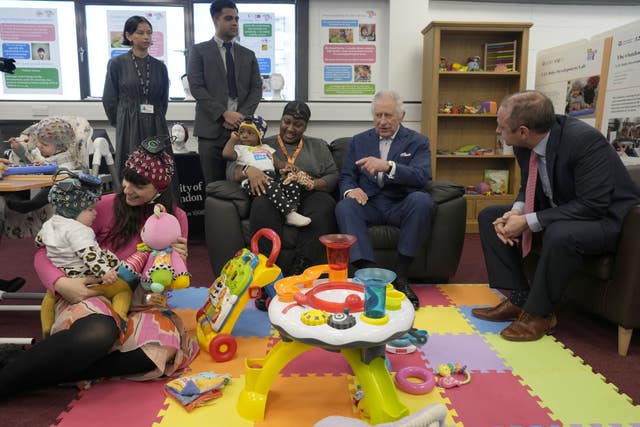 The King then went to a stage at the front where he unveiled a plaque, saying: "Very, very happy 125th birthday" as he did so before being given sustainably-produced thank you gifts by students.
One was a laser-engraved wooden portrait of him and the other was a light brown striped scarf. "I will treasure that," the King said.
Julian Ellis-Brown, a 26-year-old entrepreneur, gave the King an organic cotton gilet that is insulated by bulrush seeds.
"He is clearly someone who cares about the environment and has done for a very long time," Mr Ellis-Brown told the PA News Agency.
"He was delighted to receive it. He said something like: 'It is good that it is sleeveless because then it will fit me.'"
UEL research fellow, Dr Shaherah Jordan, 43, also met the King and said it was clear his interest in green issues was genuine.
She told the PA: "You spend a lot of time in the trenches by doing research, so whenever somebody actually wants to learn more about it, it is a nice feeling – especially when it is the King.
"I am very pleased with the whole event and the whole interaction."
UEL has more than 29,000 undergraduate and postgraduate students studying on 535 different courses.
It has hosted three royal visits before, with the Queen and Prince Philip visiting in 2006, Queen Consort Camilla in 2007 and the Princess Royal in 2013.