A nurse has described "doing the job of three people" as NHS staff stand on picket lines in the biggest day of walkouts the health service has ever seen.
Others have said they "don't feel supported" and that having too few staff means they do not feel they can provide safe care under current working conditions.
The RCN, which is staging two days of action, said nurses are set to strike at 73 trusts in England, up from 55 during January's strike days and 44 in December.
Victoria Busk, a trainee nursing associate on a trauma ward at Queen Elizabeth Hospital Birmingham, said: "We're run off our feet 24/7, breaking our backs doing the jobs of three people."
"On those days, you're constantly running up and down wards, all day," she said.
"In eight hours, I'll do about 19,000 steps in one ward.
"It's just constantly chasing your tails, trying to catch up."
She added: "We're already on our knees.
Ms Busk said: "We've not had anything, no support really from the Government to justify us going back to work.
"We've still got no staffing, we've still got poor pay and no prospect for nurses and for people to come in and do medicine as a career, which we need.
"We need people to want to come into it.
"The only way that we're going to get that is by raising wages and make sure it is something that people want to do."
Angela Unufe left her NHS job in Nottinghamshire in 2019 due to low wages and high workloads.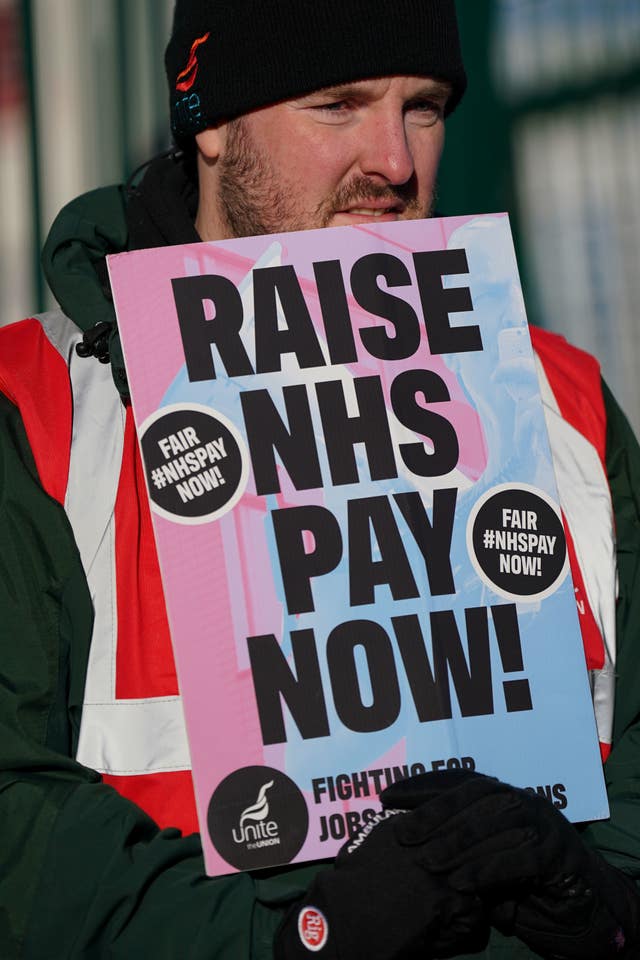 She said: "We need to create an atmosphere where nurses are supported. We are not supported right now. Every time you go on a shift, it's dangerous, due to low staffing. It's a mess at the moment."
She added: "It's got to a situation where as managers we have to fill in for nurses who are not on shift, because we can't get the nurses because there are no nurses there, as no-one wants to work for peanuts."
Ms Unufe added that wards are operating on "very dangerously low numbers" on a regular basis due to staffing pressures.
Speaking at a picket line at St Mary's Hospital in Paddington, London, student nurse Sagila Thiruthanikasalan, told PA: "It's like the Government doesn't value us as humans for the nursing care we provide.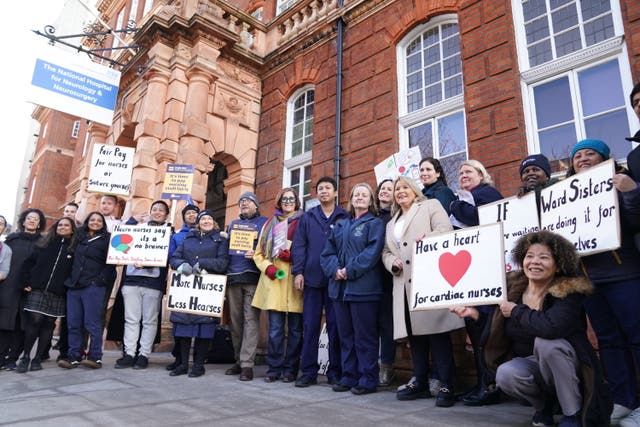 Nurse Eleanor Wray added: "We're striking to maintain a safe environment, because at the moment we're not able to retain the staff that we need in order to run a safe department and to deliver the safe services."
Kate Coates, who works for the patient transport service (PTA) at West Midlands Ambulance Service, said some of her colleagues had moved from their roles or left altogether.
Speaking from the Unite picket line outside Frogmill Road depot, Birmingham, she told PA: "A lot of them are leaving frontline as well, because of the pressures we're under and the working conditions – long hours, no breaks, because you are sat outside a hospital for six hours, the patient on board, not having a break."
"Until the Government decide they're going to pay the NHS fairly," she added.
"Listen to the problems that we're having in the NHS – the staffing problems and issues in the hospitals.
"People are coming to A&E expecting to get into A&E straightaway but they're having to sit on an ambulance and wait.
"Then there's people in hospital corridors, lying there three to four hours, waiting to be seen because there's literally no beds, no staff."