Former Tory Party chairman Sir Jake Berry has defended Liz Truss's radical tax-cutting agenda after the former prime minister said she was never given a "realistic chance" to put her plan into action.
In her first detailed comments since she was dramatically forced out of Number 10, Ms Truss blamed a powerful, left-leaning "economic establishment" for her failure to realise her vision in office.
While she acknowledged she was not "blameless" for the way her infamous mini-budget catastrophically unravelled, she said she still believes her approach to driving growth is the right one.
Sir Jake, who was put in charge of the Conservative Party machine by Ms Truss, said she had offered the right "diagnosis of the disease that is facing the country", although it "wasn't delivered in the correct way".
He told the BBC's Sunday With Laura Kuenssberg programme: "I think her point of we need to lower taxes, we need to create a growing economy, that's what people want."
With Ms Truss promising further interventions and around 50 MPs backing the Conservative Growth Group which supports her economic vision, there will be concern in No 10 at the potential for more backbench unrest.
"I completely agree with Liz's instinct to have a lower tax economy," he told Sky's Sophy Ridge On Sunday programme.
"We also know that if you do that before you've dealt with inflation and dealt with the debt, then you end up in difficulty. You can't get the growth out of nowhere."
Others within the party were more critical. Theresa May's former chief of staff Lord Barwell tweeted that Ms Truss she was brought down because "in a matter of weeks you lost the confidence of the financial markets, the electorate and your own MPs".
For Labour, shadow business secretary Jonathan Reynolds ridiculed the idea that the former PM had been brought down by a left-wing economic establishment, saying she had to go because her policies were "incoherent and unsustainable".
"I am not claiming to be blameless in what happened, but fundamentally I was not given a realistic chance to enact my policies by a very powerful economic establishment, coupled with a lack of political support," she wrote.
"I assumed upon entering Downing Street that my mandate would be respected and accepted. How wrong I was. While I anticipated resistance to my programme from the system, I underestimated the extent of it.
"Similarly, I underestimated the resistance inside the Conservative parliamentary party to move to a lower-tax, less-regulated economy."
Ms Truss's premiership lasted just 49 days as she was forced to quit after her chancellor Kwasi Kwarteng's £45 billion package of unfunded tax cuts panicked the markets and tanked the pound.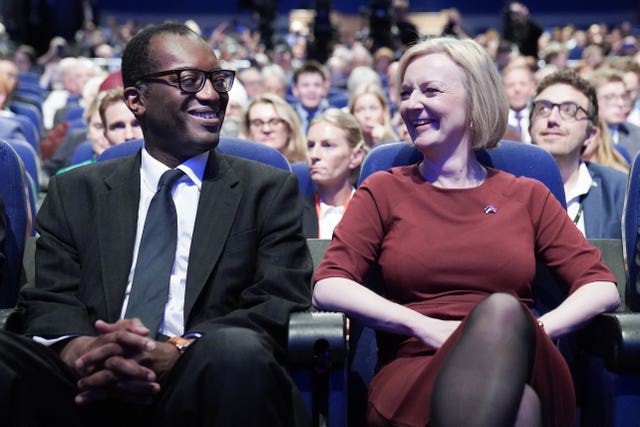 However she said she had not been warned of the risks to the bond markets from liability-driven investments (LDIs) – bought up by pension funds – which forced the Bank of England to step in to prevent them collapsing as the cost of government borrowing soared.
"Only now can I appreciate what a delicate tinderbox we were dealing with in respect of the LDIs," she said.
"Regrettably, the government became a useful scapegoat for problems that had been brewing over a number of months."
She said that with the benefit of hindsight, she would have acted differently, but she had had to battle against the "instinctive views of the Treasury" and "the wider orthodox economic ecosystem".
She said she was "deeply disturbed" at having to sack Mr Kwarteng, but believed she had been left with no choice.
"At this point, it was clear that the policy agenda could not survive and my priority had to be avoiding a serious meltdown for the UK," she said.
"I still believe that seeking to deliver the original policy prescription on which I had fought the leadership election was the right thing to do, but the forces against it were too great."