Two Just Stop Oil protesters must pay Madame Tussauds £3,500 in compensation after slapping vegan chocolate cakes in the face of a waxwork of the King.
Eilidh McFadden, 20, and Tom Johnson, 29, were found guilty of criminal damage on Tuesday after Westminster Magistrates' Court heard they targeted the model "in the manner of a slapstick comedy using custard pies".
The activists smeared the cakes, which were topped with shaving foam, in the model's face, before quoting Charles's own words on climate change on October 24 last year.
His waxwork needed to be repainted after the substances were cleaned off following the stunt at the popular London tourist destination, while its jacket, shirt and bow tie needed to be dry-cleaned.
McFadden and Johnson denied causing £3,500 of criminal damage, with the costs said to have been incurred by the repainting, as well as the cleaning of clothes and real hair wigs of the waxworks, and the royal set, including a red throne.
The court heard some staff had to work an extra five hours, while admission was halted for almost an hour, which could have prevented up to 900 people entering during the busy half-term holiday.
Johnson said they had rejected the idea of using hot soup, while McFadden told the court she had practised the cake stunt with another person.
"The substance was carefully chosen to inflict as little damage as possible," said Johnson.
McFadden added: "Shaving foam on a waxwork is nothing compared to the damage we see from the climate crisis."
However, prosecutor Jonathan Bryan said: "Your actions have done nothing whatsoever to help those persons affected by climate change, have they?"
He added: "Putting a custard pie on a waxwork model of King Charles is not going to convince anyone about climate change, it is a totally trivial action."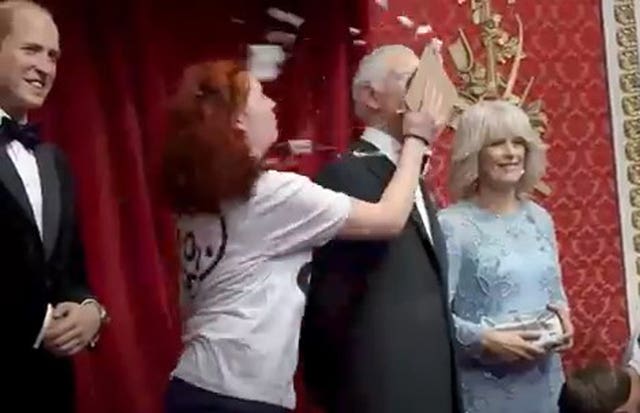 "If the damage is significant, even within a peaceful protest, it would not be disproportionate to have a conviction and I find you both guilty," she said.
The judge gave self-employed artist Johnson, who has no previous convictions, a 12-month conditional discharge but ordered him to pay £1,750 compensation and £250 costs.
McFadden, who has three previous convictions for aggravated trespass, was ordered to pay the same amount of compensation and costs, and handed a 12-month community order, including 80 hours of unpaid work.
Opening the case, Mr Bryan said: "Mr Johnson and Ms McFadden, like thousands of others, went into and made their way through the room in which models of the royal family were on display – four figures including King Charles, Queen Camilla, Prince William and Princess Kate.
"However, Mr Johnson and Ms McFadden weren't there simply to enjoy the display and take some photos for their friends, they were climate protesters from Just Stop Oil.
"They removed their outer clothing to reveal Just Stop Oil T-shirts they were wearing underneath.
"They took out a cake, topped with some sort of foam and each in turn slapped the cake into the face of the model of King Charles rather in the manner of a slapstick comedy using custard pies."