Double Olympic gold medallist Jade Jones has said she hopes to inspire young girls to take up taekwondo, adding she had not realised how far the sport could take her before she joined her local club.
The 29-year-old, who won gold for Team GB at the 2012 and 2016 Olympics, received her OBE from the King at Windsor Castle on Tuesday.
She was first awarded the honour in the 2020 New Year's Honours list, but has had to wait until this year for her investiture so that her family could join her at the ceremony.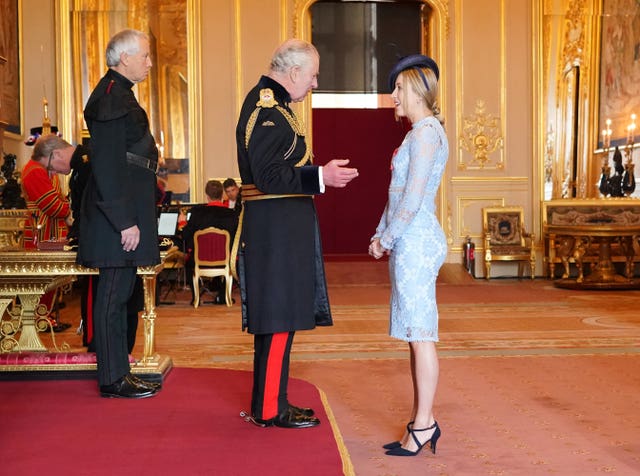 "The more women and girls see this, the more natural it becomes, so I hope the fact that I received my OBE today will inspire more girls to pursue martial arts.
"I'm a local girl from a small town, Flint, in Wales, and now I'm here at Windsor Castle. I never thought when I joined my local club that taekwondo would take me to all these places."
Jones said she was training hard ahead of next year's Paris Olympics, adding: "I'm hoping to make history by winning that third gold medal."
She said: "The training has been intense, four or five hours a day, so it's been a lovely break to come here to the castle.
"The King joked that he hoped to see me back here to give me my damehood if all goes to plan."
Jones has been involved in taekwondo since she was eight, and won her first senior title at the US Open in Austin, Texas in 2011.
She was the first athlete – male or female – to win a taekwondo gold for Team GB.
"Getting involved in sport gives young people so much confidence," she said.
"I was a really shy kid – I remember before I started taekwondo training, I found it hard to speak to people. It also teaches discipline, I was quite naughty and cheeky.
"Getting involved in sports sets young people down the right path. Life can be tough, and training gives you the drive and discipline you need to succeed."
The athlete has also recently competed in the Channel 4 show Celebrity SAS: Who Dares Wins.
When asked how she thinks former health secretary Matt Hancock might fare on the show, she said: "SAS was a lot tougher than I expected. I think Matt Hancock might struggle a bit – they definitely didn't go easy on us."