The number of excess deaths in England and Wales has fallen from a near-two-year peak, though levels remain high, figures show.
A total of 15,804 deaths were registered in the seven days to January 20, 1,568 above average for the time of year, according to the Office for National Statistics (ONS).
This is down from 2,837 excess deaths in the previous week, which was the highest since February 2021 when the UK was still in lockdown during the second wave of Covid-19.
Excess deaths, sometimes known as extra deaths, are the number of deaths that are above the average for the same period in previous years.
High levels of excess deaths mean many more people than usual are dying.
This winter has seen a sharp spike in the figures, with more than 10,000 excess deaths registered in England and Wales between December 17 2022 and January 20 2023.
Deaths were particularly high in the last two weeks of December, at 21% and 20% above average.
In the most recent week, to January 20, deaths were 11% above average.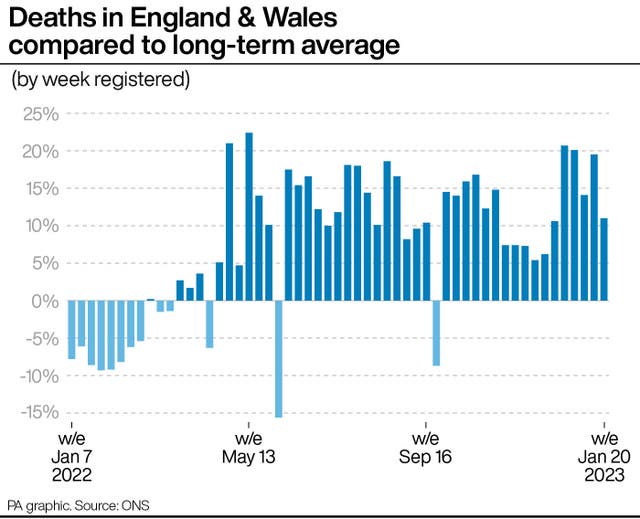 Deaths involving coronavirus accounted for just 5% of the total registered in the latest week, compared with 45% at the equivalent point in 2021.
By contrast, deaths involving flu and pneumonia accounted for around one in five (21%) of the latest registrations, and nearly a quarter (24%) in the first two weeks of the year.
The UK saw its worst flu season for a decade in the run-up to Christmas.
It is too early for detailed analysis of what could be driving the current high level of excess deaths as more data needs to be collected and studied.
But health experts have suggested other factors may include the increased pressure on NHS hospitals this winter, including access to emergency services, as well as long-term delays in receiving treatment and care since the pandemic.
Deaths in England and Wales have been above average every week since June 2022, except for the week of the Queen's funeral in September, when registrations were delayed due to council offices being closed.
Levels remain particularly high among people dying at home, where deaths were 29% above average in the week to January 20, compared with 12% higher for care homes and 2% higher for hospitals.
There were 970 excess deaths at home registered in the latest week, 53 of which involved Covid-19.
Nearly 4,500 excess deaths at home were registered between December 17 and January 20.