Rishi Sunak has insisted he acted "pretty decisively" by sacking Nadhim Zahawi for breaching the ministerial code over his tax affairs as he vowed to restore "integrity" to politics.
The Prime Minister said he followed the "right process" as critics argued he should have acted sooner, and the ousted Tory chairman's allies complained he was not allowed to make his case.
But his spokesman said there are no plans to reform the system that allowed him to appoint Mr Zahawi while supposedly unaware of his HMRC settlement.
After a fortnight of pressure, Mr Sunak sacked the party chair on Sunday after ministerial interests adviser Sir Laurie Magnus delivered a damning verdict.
The Prime Minister said during a visit to County Durham on Monday: "On the basis of those facts I was able to make a very quick decision that it was no longer appropriate for Nadhim Zahawi to continue in Government.
"It relates to things that happened well before I was Prime Minister, so unfortunately I can't change what happened in the past.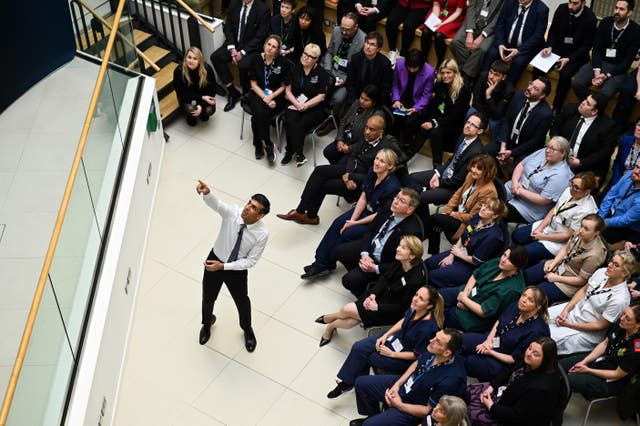 Mr Zahawi settled his £4.8 million tax dispute with HMRC while he was chancellor under Boris Johnson.
No 10 insists Mr Sunak was not aware of any "outstanding issues" when he appointed him party chairman after becoming Prime Minister in October.
However, the Prime Minister's official spokesman said there are no plans to change the process requiring MPs to "declare all relevant interests" before their appointment.
"I'm not aware of any plans to change the longstanding approach which sees ministers be required to declare any relevant interests, abide by the ministerial code and face sanction if they fail to do so," he said.
Allies of Mr Zahawi claim the MP had lost his job after being given only limited time to make his case, with the Telegraph citing claims suggesting he was only given a 30-minute meeting with the independent adviser to defend himself.
Mr Sunak's spokesman said: "We did not set any time limit for the adviser and he was free to carry out the investigation to establish the facts, and conclude his work when he felt he had done so.
"He was able to speak to whoever he wished to in that process and we're confident he established the facts."
The official was forced to defend Mr Sunak's decision to re-appoint Suella Braverman as Home Secretary just six days after she was forced out over a security breach.
"Suella Braverman resigned and acknowledged the mistake she made – she took accountability for her actions," the spokesman said. "It was on that basis that the Prime Minister subsequently chose to reappoint her."
Deputy Prime Minister Dominic Raab remains under investigation over alleged bullying of civil servants after an investigation was launched in November.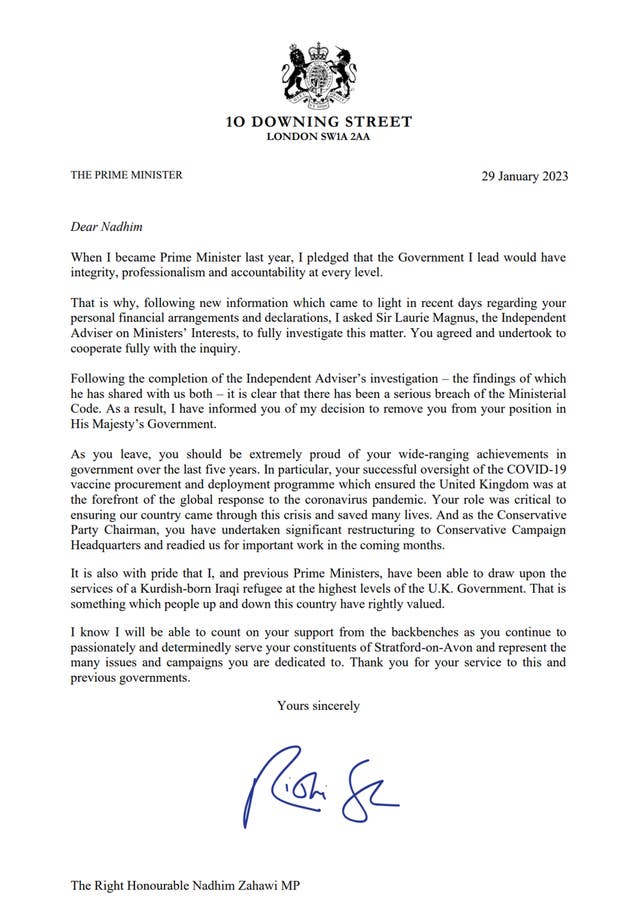 The Liberal Democrats wrote to Mr Sunak saying he should now strip Mr Zahawi of the Tory whip if he refuses to quit as the MP for Stratford-on-Avon.
Deputy leader Daisy Cooper said: "Sunak dragged his feet for weeks over this scandal. He must now act swiftly if he's serious about restoring integrity to this sleaze-ridden Conservative Government."
The Stratford-on-Avon Conservatives association released a statement saying "we look forward to campaigning and re-electing a Conservative MP", without committing to putting Mr Zahawi forward to retain the seat. However, its message stated "all" local associations were going through the same process.
Labour chairwoman Anneliese Dodds said her party has also written to the PM to ask when he found out about the HMRC investigation into the former Conservative Party chairman, adding that the PM "needed a backbone" and should have sacked Mr Zahawi earlier because "the facts were clear".
"There are serious questions for Rishi Sunak to answer. What did he know about the investigation into Nadhim Zahawi, the amount of money he had paid in unpaid tax and the penalty he had to pay?" she told the BBC Radio 4 Today programme.
"Why did Rishi Sunak say in Parliament that there weren't questions to be answered about Mr Zahawi's tax affairs, and why do we see our Prime Minister continuing to prop up such a rogues' gallery of ministers?"
Sir Laurie's four-page report, received by Mr Sunak on Sunday morning, concluded that "Mr Zahawi's conduct as a minister has fallen below the high standards that, as Prime Minister, you rightly expect from those who serve in your Government".
Mr Zahawi's failure to tell officials about the tax investigation "constitute a serious failure to meet the standards set out in the ministerial code", Sir Laurie said.
The Tory chairman had shown "insufficient regard for the general principles of the Ministerial Code and the requirements in particular, under the seven Principles of Public Life, to be honest, open and an exemplary leader through his own behaviour".
Sir Laurie said: "In the appointments process for the governments formed in September 2022 and October 2022, Mr Zahawi failed to disclose relevant information – in this case the nature of the investigation and its outcome in a penalty – at the time of his appointment, including to Cabinet Office officials who support that process.
"Without knowledge of that information, the Cabinet Office was not in a position to inform the appointing Prime Minister."
Stephen Massey, the party's chief executive, has stepped in as interim chair until Mr Sunak chooses a successor.
Former Tory leader Lord Hague, Mr Sunak's predecessor as MP for Richmond, dismissed speculation linking him to the vacancy.
"Since I've seen reports of people placing bets on me being the new party chairman, please be aware that I will absolutely not be returning to politics in any shape or form, including that one," he said.