The cost of many rail season tickets will increase by more than £100 next year as average fares go up 3.1%.
But passengers said fares have become "ridiculous", particularly after train punctuality slipped to a 12-year low in the summer.
Examples of increases in annual season tickets from January 2 include £148 for Brighton to London (from £4,696 to £4,844), £130 for Gloucester to Birmingham (from £4,108 to £4,238), and £100 for Manchester to Liverpool (from £3,152 to £3,252).
The annual cost from Prime Minister Theresa May's constituency of Maidenhead to London will increase by £96 (from £3,092 to £3,188).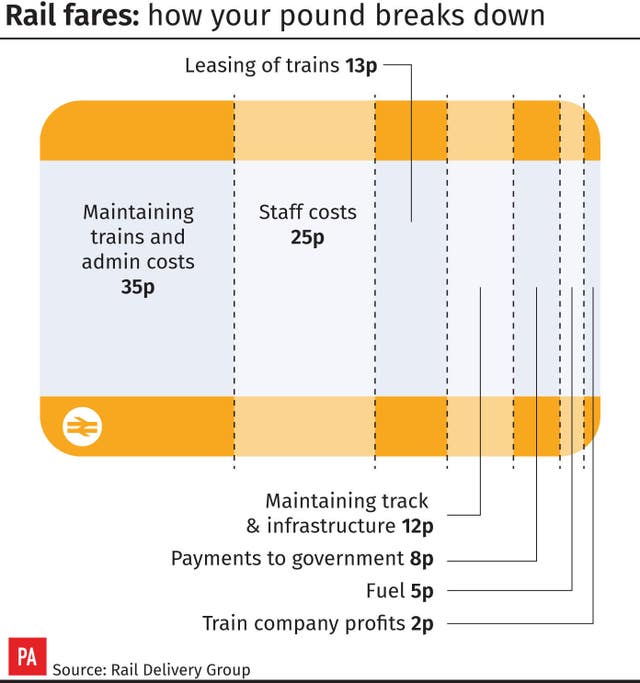 It said data from the Office of Rail and Road suggesting the 2019 increase of 3.1% is the largest in that period is not comparable because a different methodology has been used.
There have been calls for prices to be frozen following chaos caused by the implementation of new timetables in May.
Fewer than half (45%) of passengers are satisfied with the value for money of train tickets, according to a survey by watchdog Transport Focus.
Its chief executive Anthony Smith said passengers want a reliable service offering better value, adding: "They shouldn't have to wait any longer for that.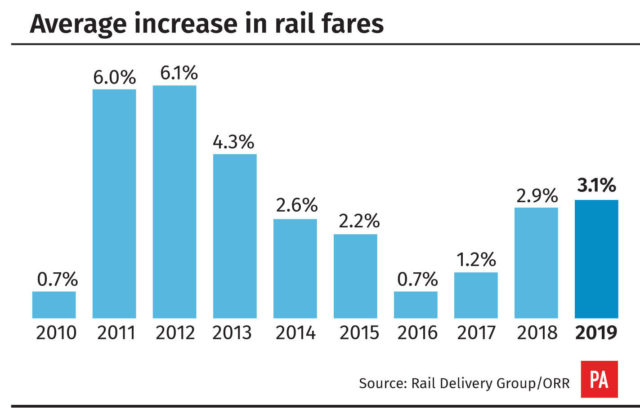 Some 14% of services failed to meet the industry's punctuality target in the 12 months to November 10.
That means one in seven trains arrived at terminating stations more than five minutes late for commuter services, or 10 minutes late for long-distance journeys.
Travelling through London Bridge station on Friday, 72-year-old Verna Dilley said trains are "incredibly expensive" and fares are "becoming ridiculous".
She went on: "I don't think it's value for money. I think quite regularly when you have to stand for a long journey, why should you have to pay a fare?"
RDG chief executive Paul Plummer said: "Money from fares is underpinning the improvements to the railway that passengers want and which ultimately help boost the wider economy.
"That means more seats, extra services and better connections right across the country."
The increase in around 40% of fares, including season tickets, is regulated by the UK, Scottish and Welsh governments.
This is predominantly capped at July's RPI inflation figure, which was 3.2%.
Other fare rises are decided by train companies.
A Department for Transport spokesman acknowledged that "any fare increase is unwelcome", but insisted it is "not fair to ask people who do not use trains to pay more for those who do".
He continued: "Taxpayers already subsidise the network by more than £4 billion a year – meaning that 54% of our transport budget is spent on the 2% of journeys that the railway accounts for."
Shadow transport secretary Andy McDonald claimed the increase shows "a Government and rail industry out of touch with passenger concerns".
Rail, Maritime and Transport union general secretary Mick Cash said the latest fare rise is "another kick in the teeth for passengers on Britain's rip-off privatised railways".