Sinn Fein president Mary Lou McDonald has urged the Irish premier to stand firm over a proposed backstop plan to prevent a hard border in Ireland after Brexit.
Ms McDonald was speaking to the media after it emerged that Leo Varadkar told UK Prime Minister Theresa May in a phone conversation that he was willing to consider proposals for a review clause in any backstop plan.
The backstop is a safety net-type proposal designed to prevent a hard border after Northern Ireland and the rest of the UK leaves the European Union next year.
A spokeswoman for the Irish Government said both leaders emphasised their commitment to avoiding a hard border and the need for a legally operable backstop.
"The Taoiseach indicated an openness to consider proposals for a review, provided that it was clear that the outcome of any such review could not involve a unilateral decision to end the backstop."
In a public message to Mr Varadkar, Ms McDonald warned the backstop "cannot be diluted".
She urged him to "show leadership" and not "leave behind" the people of Northern Ireland.
"Anything that weakens or softens the Irish Government's position as to the baseline protections that we need is something to be avoided," she said.
"I very much hope and I very much expect that the Taoiseach, the Government and the (Michel) Barnier team will remain on track, I fully expect that the promises and commitments freely made last December to protect Ireland to be honoured, and it is the job of the Taoiseach to ensure that it is so.
"Now is not the moment to cloud issues or muddy the waters, now is the moment for leadership and absolute clarity, and the backstop as agreed last December is the bottom line, it can't be walked away from, it can't be diluted down. It is the bottom line and it is what must be delivered if there is to be a withdrawal agreement.
"The Taoiseach assured people in the north that they would never again be left behind, and now is truth time, now is the moment for that pledge to be honoured, we expect that it will be. All of us who care about this island, north and south, all of us who wish to see prosperity, equality and opportunity and a decent shared future, all of us need to hold firm.
"Now is the moment that leadership is required, we expect that that will be provided by the Government in Dublin."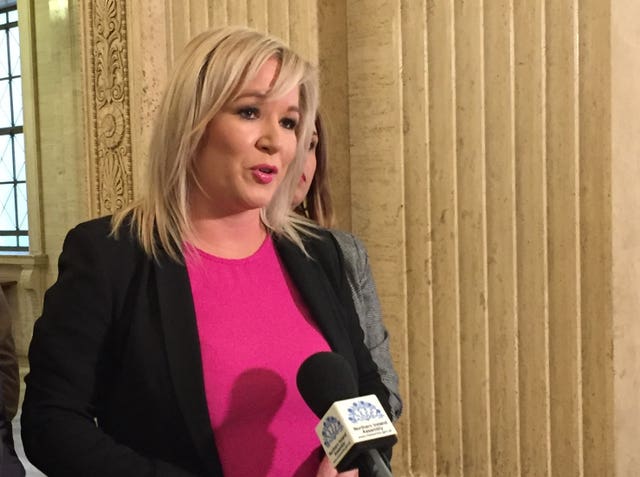 Ms O'Neill commended the letter signed by 1,000 nationalists across Ireland to Mr Varadkar, urging him to defend the rights of Irish citizens north of the border amid uncertainty caused by Brexit and Stormont's political crisis.
The signatories included actors, academics, lawyers, teachers and doctors.
"I think it sends a very strong message that the nationalist community here are not going to stand idly by and allow the British Government to disrespect them when it comes to their rights, they're not going to allow the north to become a backwater when it comes to marriage rights or language rights," she said.
"I think it is vitally important that people no longer sit on the fence, people need to make their voices heard, so I very much welcome that civic nationalism have come together again to hold the Taoiseach to account for what he said last year."