Controversial businessman Peter Casey has denied his apparent vote surge in the presidential election was prompted by his criticism of Travellers.
Mr Casey, a former star of Ireland's version of Dragons' Den, is on course to come second in the poll with around 20% of the vote.
This would represent a remarkable result for the Londonderry millionaire, whose support base hovered around 1% in opinion polls prior to his critical remarks about Travellers and welfare recipients.
Speaking at Dublin Castle, Mr Casey again refuted allegations he had used the race card to gain votes, and insisted his controversial comments were not the reason for the dramatic increase in his support.
"It's so untrue," he said.
"You can't be a racist if you don't regard the people you are talking to as a different race. They're not. They're Irish and they're proud Irish people, so that's not possible really."
The 61-year old said he needs to talk to his wife before making any decision about running for another elected office.
He had hinted he might turn his focus to running for the Dail.
"I think we need to sit down, take stock and make a decision very shortly," he said.
Mr Casey added that he thought he would win the poll. "Is it definite that I've lost?," he asked.
He also said he is "still waiting on the Taoiseach to apologise" for asking people not to vote for him in the election.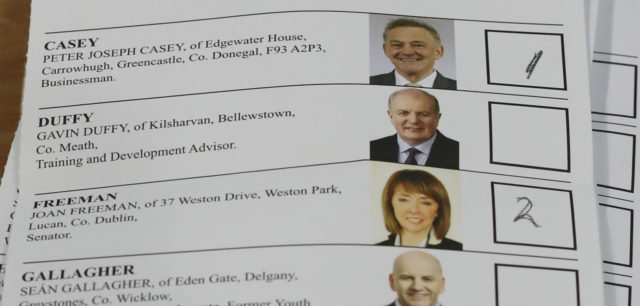 Mr Casey said it was "disgraceful" of Mr Varadkar to have intervened.
Rivals have accused the Derry man of engaging in "populism", with some comparing his campaign to Donald Trump's bid for the White House.
As votes were being counted in Dublin's Convention Centre on Saturday morning, Mr Casey said his advocacy for "middle Ireland" – people who are struggling to pay bills and get on the housing ladder – was the reason his campaign resonated with the voters.
"The real reason I got a bump in the polls is because I spoke out and said middle Ireland, they are the people who are hurting, they are the people who got nothing out of the last Budget, and they are the ones who are paying all the bills," he said.
He said that if he had won the election, he would have advocated moving members of the Travelling community into Dublin's vast Phoenix Park.
Mr Casey said: "I was going to suggest we invite all the Travelling community to move into Phoenix Park for a five-year period – unfortunately I am not in that position and I would encourage Michael D (Higgins) to do that and insist that schools are put in there for a five-year period so they can get education.
"Education, education, education."