The impact of Universal Credit is a "women's human rights issue", a single mother has told MPs.
Former BBC journalist Thuto Mali said viewing the benefits system as simply  financial overlooked the "human cost" to people on low incomes.
She was one of four single mothers who told the Work and Pensions Committee on Wednesday of their childcare problems under the new system.
They told how the system, coupled with high upfront nursery costs, meant working often meant they were only marginally better off than simply staying at home.
Ms Mali, from London, said the system need to change to examine "individual cases", telling MPs: "Everyone talks about money and all you will be losing is benefits. But they don't talk about the human cost.
"They don't talk about the time I am now going to be out of the workplace and how I'm going to re-enter with a massive gap in my 40s.
"We already know about the inequality in pay and everything else so it is almost like a women's human rights issue as well as … it being a benefit thing.
"It's just very shortsighted."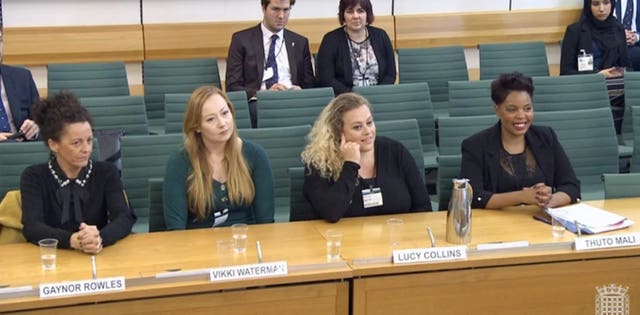 Speaking before Wednesday's hearing she revealed she is set to move on to Universal Credit within months and expects to be "significantly worse off" once she starts working after paying out for rent, council tax and childcare.
Charity Save The Children has said under Universal Credit, families have to pay the costs of childcare upfront meaning that on returning to work they may have to pay up to £1,000 to get a childcare place.
They suggest families are put at risk of debt by having to wait as long as six weeks to get support for these costs reimbursed under Universal Credit, by which time they will have had to pay for their next month's childcare.
The charity says once fully rolled out, half a million families will be getting childcare support through the new benefit.
The other mothers highlighted how upfront childcare costs were leaving them with high fees to pay and gaps of weeks before they were repaid under the new system.
Vikki Waterman, 34, who has two young daughters, said she had to pay £1,300 upfront for childcare before she returned to work, which the UC system took five weeks to repay.
She was also fined £50 by the nursery because a late benefit payment resulted in her being two days behind in paying for childcare.
She told MPs: "We don't want to sit at home when we didn't plan to be single parents.
"We shouldn't be penalised for that. That is not what we are here for.
"We want to be able to go to work and to provide for our own families, and at the minute it seems as if there is a roadblock everywhere we turn."
A Department for Work and Pensions spokeswoman said: "We are doing more than ever before to support parents with the cost of childcare and by 2019-20 we will be spending around a record £6 billion on childcare support.
"Under Universal Credit, working parents can claim back up to 85% of eligible childcare costs, compared to 70% of costs covered under the previous legacy system. This is the highest level of support ever. And if someone has accepted an offer of paid work, they are eligible to be paid these costs for the month prior to starting work.
"This generous provision has been widely welcomed by stakeholders and is available in addition to an entitlement of up to 30 hours of free childcare."