Union organisers are running a mobile advert campaign in a bid to drum up public support for a planned 48-hour strike of thousands of council workers.
Around 8,000 members of the GMB and Unison unions are due to walk out on a two-day strike on Tuesday in a long-running row over equal pay claims against Glasgow City Council.
The council expects 50,000 pupils to be affected along with 6,000 people receiving home care.
All nurseries, primary schools and schools for additional support needs pupils are expected to close, in what the unions claim is the largest strike of its kind since the Equal Pay Act was passed in 1970.
Thousands of female workers are proceeding with equal pay claims against the council which the GMB union estimates could be worth £1 billion, following a Court of Session ruling last year.
When the SNP were voted into power in the city at the last council elections, ending decades of Labour rule, they vowed to negotiate a settlement for the women and committed to making an offer this December.
However, negotiations have broken down amid claims from the unions that no progress has been made.
On Wednesday, the GMB union sent a van around the city featuring a poster calling for the striking workers to be supported.
Under the message Women Make Glasgow, a reference to the city council's marketing slogan People Make Glasgow, four women affected by the pay issue are pictured with the words "We want equal pay".
The advert continues: "Over 10 years and still waiting for justice. Glasgow City Council – pay us what we deserve."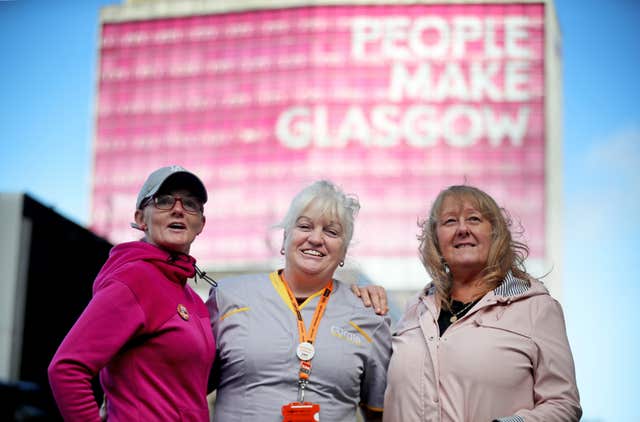 The 58-year-old said: "We're just ready to stand up and fight and say how unfairly we've been treated.
"We've never been valued for what we've done in our jobs."
She said the women are valued less than their male comparators.
"Once its taken away maybe they will understand a wee bit more exactly what we do do," she added.
"We keep this city going every morning."
Rhea Wolfson, GMB Scotland regional organiser said the union had set out demands but could not make progress unless the council is willing to negotiate and the advert is an appeal to the public for solidarity.
"We've got two and a half working days left because we need to have final decision on this by Friday evening," she said.
"At this point the council won't meet us so it is an impasse of the council's making."
She said she wants the council to meet with union organisers, "listen to us and take us and the women seriously".
She added: "The whole city is run on the backs of these workers."
A Glasgow City Council spokesman said: "The council is committed to resolving equal pay. We want all parties back around the negotiating table in good faith; ready to deliver for our workforce and their members.
"In the meantime, we are planning ahead to try and minimise the disruption to services during the industrial action – and focusing our resources on the most critical services and vulnerable users."