Oliver and Olivia were the most popular baby names in England and Wales for the second year running, according to the Office for National Statistics.
In 2017, 5,204 baby girls were given the name Olivia, up from 5,017 in 2016, and 6,529 baby boys were named Oliver, down from 6,623 last year.
The data shows the six new female entries were Aurora, Orla, Edith, Bonnie, Lyla and Hallie, replacing Lexi, Zoe, Maddison, Sarah, Felicity and Lydia.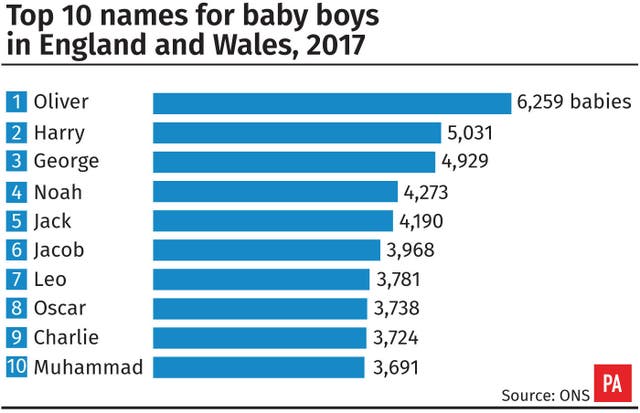 There is little regional variation in the top-choice names for girls, with Olivia coming top in every region in England and Wales, and Amelia coming second in every area apart from the South West, where Isla took the second spot.
There was more variety in the naming of boys, with Muhammad coming top in London, the West Midlands and Yorkshire and the Humber. But Oliver was consistently popular, coming first or second in every region across England and Wales.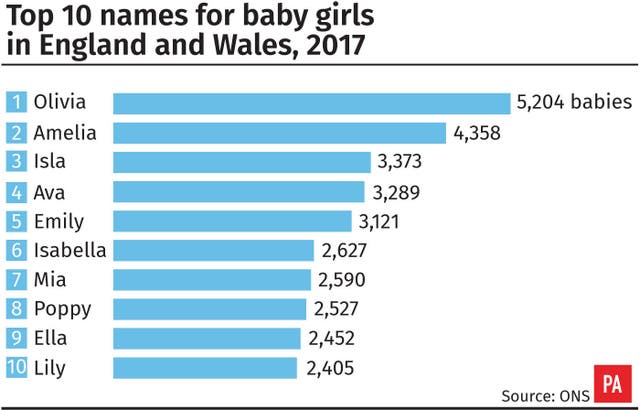 The top 10 girls' names are: Olivia, Amelia, Isla, Ava, Emily, Isabella, Mia, Poppy, Ella and Lily.