The Duchess of Sussex brought her mother to the launch of the Grenfell community cookbook she has championed – and helped prepare lunch for the guests.
Doria Ragland's last memorable appearance was on the steps of St George's Chapel following the royal wedding in May, watching her daughter begin her new life as a member of the monarchy.
In London to visit Meghan and her husband for a number of days, Ms Ragland – who, according to reports, is moving to the capital to be near the duchess – was invited to join the celebrations of the cookbook, Together, along with Harry.
She marked the occasion by giving her first public speech as a duchess, telling guests before they sat down to a lunch featuring dishes from the book: "Working on this project for the past nine months has been a tremendous labour of love."
The duchess, who has been privately visiting the cooks, added: "I had just recently moved to London and I felt so immediately embraced by the women in the kitchen – your warmth, your kindness, and also to be able to be in this city and to see in this one small room how multi-cultural it was."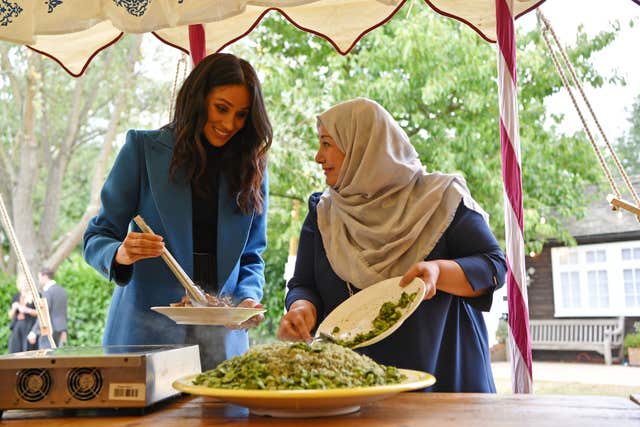 Ms Ragland introduced herself to guests as "Meg's mom" when she arrived at the marquee with the duke and duchess, and said she was "head over heels" with pride.
Meghan quickly got stuck in, preparing food that was laid out on trestle tables, dishing out green rice and later flipping chapatis and then watching kofta kebabs, turning them so they browned evenly.
The duchess looked stylish in a top by Tuxe, skirt by Misha Nonoo and coat by Smythe.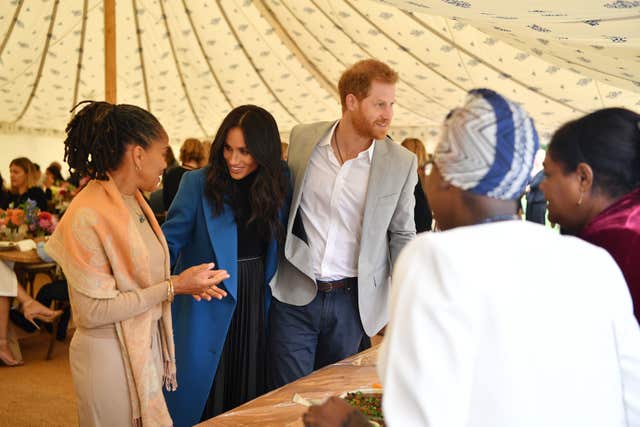 As her daughter turned a chapati, she asked: "What kind of oil are you using?" and approved when told it was sunflower oil.
Guests sat down to the home-made dishes from the new cookbook including coconut chicken curry, aubergine masala and a range of chapatis and sharing dips, as well as caramelised plum upside-down cake, and spiced mint tea.
Meghan has been privately visiting the Hubb Community Kitchen, at the Al Manaar Muslim Cultural Heritage Centre in North Kensington, where the women who created the book regularly meet to cook.
The duchess wrote the foreword for Together, which is in bookshops from Thursday but has been available to order online for a few days.
"Even before it's got to the stores we've had people requesting it, we've had many phone calls 'where can I get a copy of this book?'."
In her speech, which was made without notes, Meghan thanked all those involved, adding: "On a personal note I'm especially grateful because this is my first project so I appreciate your support and the vision that I had for this and seeing it come to fruition.
"Everyone embraced this so deeply, because it's been a passion project for all of us – and for very good reason.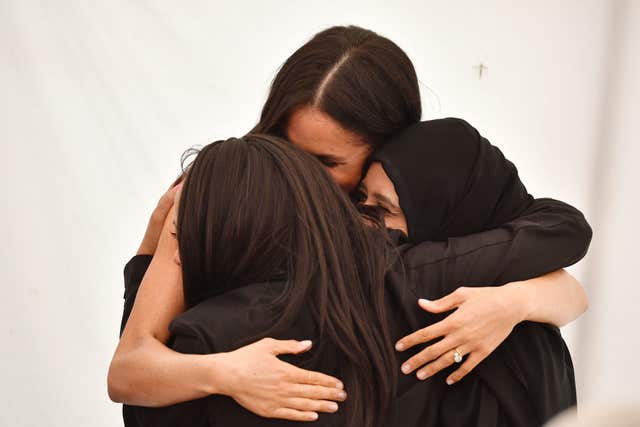 "And when you get to know the story of the recipe you get to know the person behind it, and that's what we're talking about in terms of coming together, to really engage and talk and to be able to celebrate what connects us, rather than what divides us.
"That, I believe, is the ethos of Together."