An English vineyard has started its earliest ever harvest and is confident of a "very high quality" vintage following the joint hottest summer on record.
The Nyetimber estate in West Sussex has started harvesting more than three weeks earlier than usual and is hoping for enough grapes to produce a record one million bottles of its sparkling wine – 20% to 30% more than in a normal year.
The long, hot summer combined with ideal rainfall created the perfect conditions for vines across all Nyetimber's vineyards in West Sussex, Hampshire and Kent.
"I would put my money on this being a very high quality year."
The harvest is so good that Nyetimber expects to use it to produce its latest single vintage Blanc de Blancs – the current release of the wine is the 2010 vintage – although consumers will have to wait until 2024 at the earliest for it to reach the market.
Should the decision be made to produce a 2018 Blanc de Blancs, it will go into bottles in the first half of next year and the wine is aged for a minimum of around five years before it is sold.
Nyetimber owner and chief executive Eric Heerema said: "Nyetimber has been on a remarkable journey, growing 20-fold in just over a decade.
"Today marks the beginning of what I hope will be our best harvest yet, an important milestone for English sparkling wine which is well on its way to becoming the finest in the world."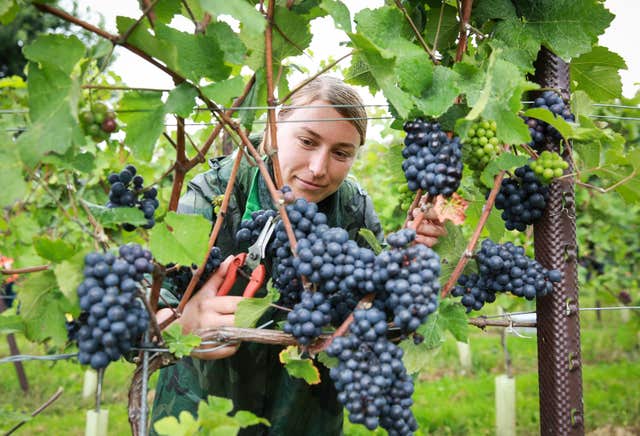 WSTA chief executive Miles Beale said: "The last bumper year for English wine was back in 2014 when good weather created ideal growing conditions for our grapes, with vineyards across the UK producing the equivalent of 6.3 million bottles of English and Welsh wine that year."
Vineyards were hoping that 2018 would be "even better", he said.
Viticultural consultant Stephen Skelton said an early harvest was always good for quality.
He said: "As for volume, we normally crop about one third of Champagne (region). This year I would guess we would match their level."
Sparkling wine currently accounts for 66% of all English and Welsh wine produced, while HM Revenue and Customs figures show that 3.86 million bottles of sparkling and still wine made in UK vineyards were released for sale last year.
It is expected the area under vine to reach over 3,000 hectares by 2020 from 2200 hectares currently, according to the Wine and Spirits Trade Association's 2018 Wine Report.