Controversial legislation to merge the British Transport Police and Police Scotland might never be enacted, the Justice Secretary has said.
Humza Yousaf said while the Scottish Government still "see some benefits" in fully integrating the two forces, when the Act to achieve this would come into force was being "kept under review".
The Scottish Parliament passed the Railway Policing (Scotland) Bill, despite criticism from opposition parties, the unions and others.
The merger was originally due to take place in April 2019, but the timetable was delayed.
Police Scotland are currently unable to give a "definitive date" for when the merger could take place, Mr Yousaf told MSPs on Holyrood's Justice Committee.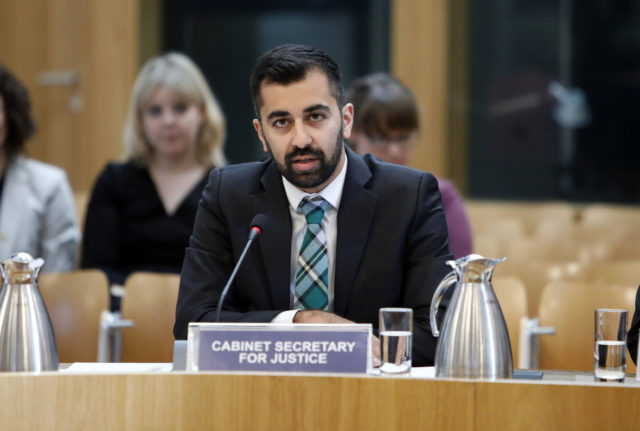 The Justice Secretary went on to suggest if all parties were "satisfied" with the interim arrangements then ministers would "have to look again at whether the legislation would be commenced or not".
He stated: "For me the prudent way of approaching this would be to examine and explore what options there are for interim arrangements to give best effect to the Smith Commission in terms of railway policing, give it a period of time, and that could be open to discussion, and therefore keep that under review."
Mr Yousaf told the committee: "It could be we get to a position where the interim arrangements satisfy us universally, the political parties around this table the stakeholders involved.
"And we believe that after a period of a couple or a few years of those arrangements being in place that we are universally satisfied that the accountability has been demonstrated, that we have the best model in place not just to maintain the safety but enhance the safety of the travelling public.
"And if we got to that point frankly we would have to look again at whether the legislation would be commenced or not. That would be one position.
"The commencement of the act is something I keep under review. I am not closed minded on that point. but I still continue to say from a Scottish Government point of view we still see some benefits in full integration."
He said he was "disappointed" the merger had to be put on hold, saying: "I see the benefits of full integration, seamless policing, that single command structure, I see those benefits."
But he indicated it could be several years before the merger takes place.
Pressed on the timing for this, Mr Yousaf said "many people" regarded the 10-year Policing 2026 strategy as being "the natural dovetail of full integration".
He added: "I wouldn't disagree with that assessment."
But he stressed merging the two forces was "not where my focus is at the moment".
The Justice Secretary stated: "My focus isn't on the full integration – I've been given advice from Police Scotland which says full integration, they can not give a definitive date for, so therefore my attention, government's attention, all our attention should be on finding those interim solutions which deal with the accountability question and also ensures we continue to maintain safety for the travelling public."