Downing Street has delivered a stinging slapdown to former foreign secretary Boris Johnson, saying he has produced "no new ideas" on Brexit.
In a barely-veiled rebuff to Mr Johnson's ambitions to become prime minister, Theresa May's official spokesman told reporters that the country needed "serious leadership with a serious plan" which was being provided by the current premier.
The comments came after Mr Johnson used his regular Daily Telegraph column to launch a scathing attack on Mrs May's Brexit strategy, branding it a "fix" that can only lead to victory for the EU.
In what was seen by many at Westminster as an opening sally in a bid to oust the Prime Minister, the ex-foreign secretary insisted the UK was "lying flat on the canvas" in withdrawal talks.
Britain has "gone into battle with the white flag fluttering over our leading tank" due to Mrs May's Chequers proposals to align UK standards on goods to the EU, Mr Johnson said.
But Mrs May's spokesman insisted that the plans set out in the Government's Brexit White Paper were "the only credible and negotiable plan which has been put forward".
And the spokesman added: "Boris Johnson resigned over Chequers. There's no new ideas in this article to respond to.
"What we need at this time is serious leadership with a serious plan and that's exactly what the country has with this Prime Minister and this Brexit plan."
Writing in the Telegraph, Mr Johnson compared withdrawal negotiations between Brexit Secretary Dominic Raab and the EU's chief negotiator Michel Barnier to a rigged wrestling match.
"The fix is in," said the former foreign secretary. "The whole thing is about as pre-ordained as a bout between Giant Haystacks and Big Daddy; and in this case, I am afraid, the inevitable outcome is a victory for the EU, with the UK lying flat on the canvas and 12 stars circling symbolically over our semi-conscious head."
Mr Johnson accused "some members" of the Government of deliberately using the Irish border question to "stop a proper Brexit" and effectively keep Britain in the EU.
He said that the real "scandal" was "not that we have failed, but that we have not even tried" on Brexit.
"The UK has agreed to hand over £40 billion of taxpayers' money for two-thirds of diddly squat," he said.
Under the Chequers plan, "we will remain in the EU taxi, but this time locked in the boot, with absolutely no say on the destination".
But the PM's spokesman retorted: "The Chequers proposals are the only credible and negotiable plan which has been put forward and which will deliver on the will of the British people."
And Home Secretary Sajid Javid said Tories should unite behind Mrs May's blueprint, pointedly adding: "For those who think there is a different way then they need to properly set out what alternatives there might be."
Mr Johnson's intervention won the backing of leading Tory Brexiteers Steve Baker, who described it as "superb" and Owen Paterson, who said it offered a clear articulation of the "myths" surrounding the Irish border.
It came as Mrs May faced growing opposition on Tory benches to the compromise deal agreed by the Cabinet at her country residence in July, with Brexiteers warning it will be voted down if it comes before the House of Commons.
And the viability of the Chequers model was also coming under question in Brussels, with Mr Barnier telling a German newspaper that he is "strongly opposed" to elements of the plan.
Mrs May's proposals, which would see the UK remain in a free trade area for goods while ending freedom of movement, would involve "insane and unjustifiable bureaucracy", said Mr Barnier.
The PM's spokesman insisted that the Chequers plan had received "a positive response" from a number of EU leaders and said that Number 10 believes it "can carry the support of the House of Commons".
"We want the EU to engage in these negotiations with energy and imagination," said the spokesman.
"Michel Barnier has said a lot of things in recent weeks. The negotiations between the Secretary of State and Michel Barnier are ongoing. You can expect some to be taking place in the coming days.
"It's very clear that the Chequers proposals are being taken seriously… What you've seen over the summer from a series of European leaders is a positive response to the Chequers proposals."
Despite warning that the PM had declared "open sesame" for further concessions to Brussels, former Brexit secretary David Davis rejected suggestions she should be replaced.
In what appeared to be a veiled attack on Mr Johnson – who walked out of the Cabinet hours after his own resignation over Chequers – Mr Davis told ITV1's Good Morning Britain it was not the time for "personality politics".
Asked if it would be better if Mrs May stood down, Mr Davis said: "No, we don't need any more turbulence right now.
"What matters in all of this is not the personality politics, it's the outcome at the end."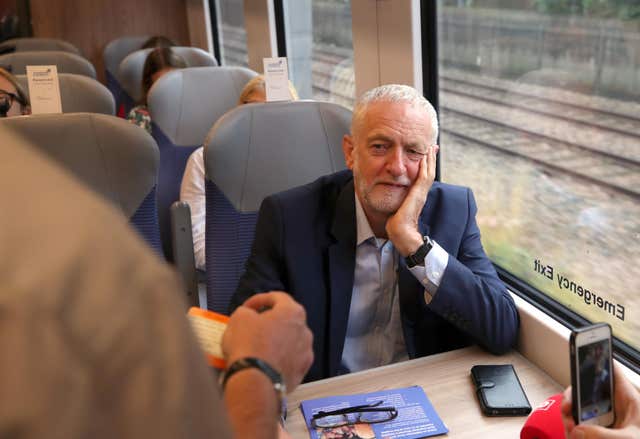 "Well surely, it's time for some serious people to take over the negotiations? The Tories have had two years since the referendum and made no progress at all."