Volkswagen's UK headquarters has been blockaded by Greenpeace campaigners and medics in protest against diesel vehicles.
The environmental organisation launched the stunt at the car manufacturer's office in Milton Keynes at around 7am on Monday.
Around 60 activists barricaded entrances to the building and set up a mock clinic offering health advice to staff and members of the public.
Concerns over emissions of nitrogen oxides have grown since Volkswagen was found in September 2015 to have cheated air pollution tests for 11 million diesel vehicles worldwide, including 1.2 million in the UK.
Greenpeace is demanding that the firm commits to stopping producing diesel cars and switching to only producing electric models.
An estimated 40,000 premature deaths a year in the UK are caused by air pollution, which is linked to health problems such as childhood illnesses, heart disease and dementia.
Greenpeace clean air campaigner Mel Evans said: "As the UK's biggest seller of diesel cars, Volkswagen is complicit in an air pollution crisis that's filling up emergency departments and GP surgeries.
"Volkswagen sold us a lie about diesel being clean. Its diesel addiction is seriously harming people's health.
"Volkswagen won't meet with us and won't listen. So today we've brought the truth about diesel to its doorstep.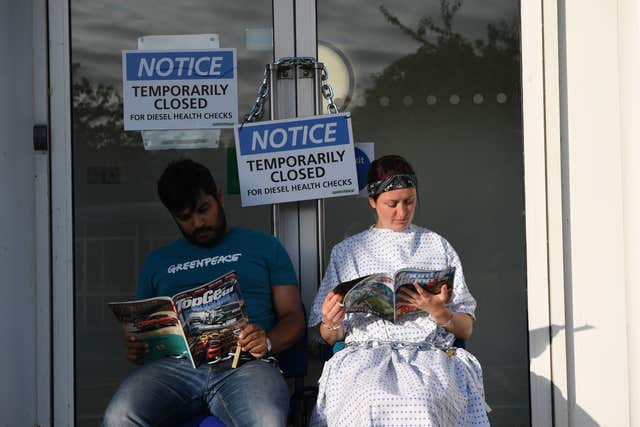 Aarash Saleh, 33, a doctor in respiratory medicine who was at the protest, said: "Diesel pollution is causing horrendous suffering across the UK and storing up a lifetime of troubled health for our kids.
"If you could see it, diesel would be banned tomorrow."
A Volkswagen UK spokesman said: "Volkswagen is aware of a protest at its Blakelands premises this morning. The safety of our employees is our principal concern and so the matter is now being handled by the police.
"The Volkswagen Group has launched the most comprehensive electrification initiative in the automotive industry with Roadmap E. This will bring an additional 80 new electric vehicles to the Volkswagen Group model range by 2025.
"Roadmap E brings a 20 billion euro investment to electric vehicle technology with the goal of 25% of Volkswagen Group vehicle production comprising electrified vehicles by 2025 and 50% by 2030."
It is almost 12 months since Greenpeace activists prevented a cargo ship carrying cars – including Volkswagen diesel models – from reaching Sheerness port in Kent by using boats to climb on board and hang from its 89ft (27m) high unloading door in September 2017.