Theresa May and her senior ministers will continue their attempts to sell their White Paper to Europe and seek fresh trade deals as the pace of Brexit diplomacy heats up.
Cabinet Office minister David Lidington, the de-facto deputy prime minister, will head to Paris on Tuesday for talks with French politicians, the day after Foreign Secretary Jeremy Hunt visited Berlin.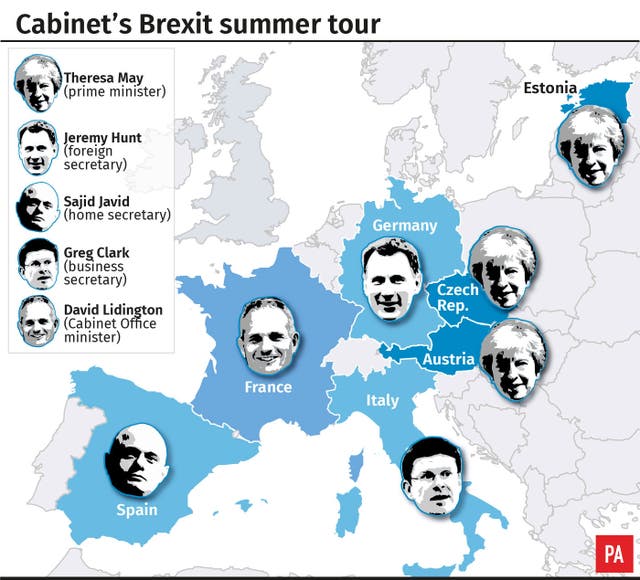 And International Trade Secretary Liam Fox will be speaking to business leaders and officials in Washington, with a strong commercial deal with the United States seen as key to post-Brexit success.
Mr Hunt signalled a change in rhetoric when he visited Germany on Monday, warning that only Russian President Vladimir Putin would welcome a no-deal Brexit.
His comments strike a different tone from predecessor Boris Johnson – who said a Brexit on World Trade Organisation terms "doesn't hold terrors" – and came despite Theresa May's insistence that "no deal is better than a bad deal".
Mr Hunt warned about the dangers of the UK and EU accidentally stumbling into a "no deal" scenario, adding that if that happened "the only person rejoicing would be Putin".
The Prime Minister, who took her Cabinet to north-east England for an away day on Monday, insisted that she was having "constructive" talks with EU counterparts about the blueprint agreed by her Government at Chequers.
The last gathering of Cabinet ministers away from Downing Street was at the Prime Minister's Chequers retreat to thrash out a Brexit blueprint – eventually leading to the resignations of David Davis and Mr Johnson.
Her top team of ministers met for a special session in Gateshead on Monday, before Mrs May went to Newcastle to answer questions from workers at an engineering firm.