England fans rejoiced on the streets of Volgograd after Harry Kane's late show got some dreaming of the final.
The England captain scored twice, including one in added time, to help the Three Lions' beat Tunisia in their first World Cup Group game.
And fans could not hide their delight after the final whistle, cheering and singing loudly.
Tom Law, 29, and Clark Roberts, 30, both from Coventry, emerged from the Volgograd Arena singing "Harry Kane, he's one of our own".
Mr Law said: "To get a last-minute winner, Harry Kane absolute legend.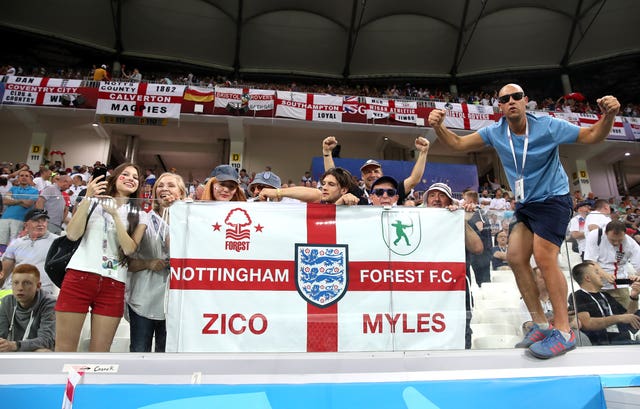 "It was fantastic.
"There've been so many first games where England have bottled it but finally to turn it around – brilliant."
Mr Roberts added: "Captain Marvel really showed up, didn't he?
Dee Dee Murray, aged 60 from Luton, said: "That is exactly the result we needed – I knew we were going to do it.
"I'm so pleased for Gareth Southgate and all the lads."
"They need to up the tempo a bit.
"I've lived here for five years, come down to see England play and it's absolutely great."
And his sister Liz Watkins, 64, who lives in Huddersfield but is originally from Leicester, said: "It was a good game" as she singled out Harry Maguire for helping Kane to score his winner.
Zahid Ali, 28, from Canary Wharf in London, said: "It looked like England were going to do it again but Harry Kane, thank God for him."
Pockets of seats were left empty in the 45,000-seater Volgograd Arena, with the official attendance reaching 41,064.
The Football Association did not sell out its allocation for the match, with only 1,510 fans buying through the official England Supporters Travel Club.
More would have purchased their tickets through world football's governing body Fifa but earlier in the day, fans told how they had felt outnumbered by the noisier Tunisian contingent in central Volgograd, 600 miles south of Moscow.
Some supporters had expressed disappointment that many decided not to make the journey to Russia or felt unable to, amid fears of fan violence.