WPP faced embarrassment at a bruising annual meeting that saw nearly a third of shareholders reject a bumper payout for ex-chief Sir Martin Sorrell, while top bosses faced a flood of questions surrounding his controversial departure.
A final tally of votes showed 27.25% were cast against the company's remuneration report, which includes a £20 million package for the outgoing boss.
Around 16% of investors rejected the re-election of chairman Roberto Quarta, who was targeted for failing to adequately prepare for Sir Martin's replacement and for over-committing with other roles.
Mr Quarta said the result was "disappointing" – given that he is used to approval by more than 90% of votes cast – but said the majority support "underscores the fact that shareholders believe we did the right thing and acted properly."
Sir Martin left WPP in April after more than 30 years following allegations of personal misconduct, which he denies.
WPP carried out an inquiry into allegations that he misused company funds, but details of the investigation were never disclosed.
Over the weekend, it was alleged in the Wall Street Journal that the probe looked into whether he used company cash to pay for a sex worker.
Sir Martin "strenuously" denies the claims.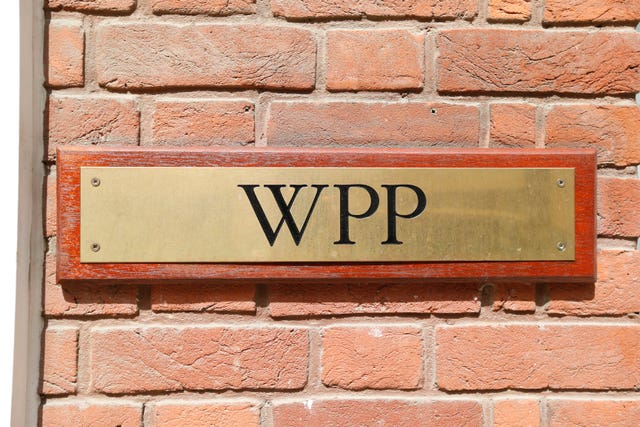 He will also take nearly £20 million in payouts from WPP over the next five years as part of an exit deal.
Mr Quarta stressed that Sir Martin's employment contract was sealed in 2008, pre-dating the current board.
But one private shareholder noted Sir Martin's new venture could "set up in competition" with WPP and "surely must constitute as gross misconduct".
But Mr Quarta cited recent comments from Sir Martin, which characterised his new company as "a peanut that wouldn't want to compete against a £20 billion global company like WPP".
Sir Martin earlier this month confirmed his return to the London stock market, heading a newly formed "multinational communication services business" named S4.
One shareholder came out to express "disappointment" that Mr Quarta did not start his speech by paying tribute to the work Sir Martin did during his time at WPP – drawing applause from other AGM attendees.
"Look, it's been a challenging period, I'm sure for Martin as it has been for us, but certainly from my perspective there's no bad blood," Mr Quarta added in a comment to journalists, saying that he would recognise Sir Martin's contributions next year.
Another investor pushed Mr Quarta about the company's trajectory, adding that Sir Martin was "so key" to the company strategy.
Mr Quarta defended WPP as an "amazing business" that "can succeed without him (Sir Martin)", though he added that WPP needs to find a "new beating heart" for the group.
The company's perceived lack of succession planning for Sir Martin's position took centre stage, with one shareholder asking whether the chairman could admit "succession planning at WPP was inadequate".
"Certainly none of us foresaw the events that followed," Mr Quarta said, but he added that board discussions with Sir Martin had "enabled us to get to the appointment of both Mark (Read) and Andrew (Scott) when the time came".
After Sir Martin's departure, Mr Quarta was made executive chairman, while Mr Read, chief executive of WPP's Wunderman business, and Mr Scott, European chief operating officer, have been made joint operating chiefs.
Mr Quarta said that, given the company did not anticipate the timing of Sir Martin's departure, it was "not possible" to do any further work on succession "until that time crystallised".
"From my standpoint, I… believe we did – and are doing – exactly what we've said from the beginning."
Responding to allegations about Sir Martin's behaviour towards WPP staff, the chairman added: "I want to make it clear that, at WPP – as in any other workplace – everyone is entitled to be treated with respect.
"The board takes this matter very seriously and has asked the new management team to review how our policies are put into practice and where and how we need to make improvements."
Mr Read – who is in the running to replace Sir Martin – said the outgoing boss was a "hardworking and hard-driving chief executive. I don't recognise, let's say, the bullying nature of some of the accusations."