A fraudster who claimed his father died in the Grenfell Tower tragedy to get his hands on emergency money and a free stay at a hotel which was meant for victims of the deadly fire has been jailed.
Just two days after the tragedy Mohammad Gamoota, 31, had told council officials that he had been living with his father on the 24th floor when the fire ripped through the building last June.
Gamoota pleaded guilty to two counts of fraud which had aimed to net him a total of £6,784.36 when he appeared at London's Isleworth Crown Court.
He was jailed for 18 months on each count and the sentences are to run concurrently.
Judge Robin Johnson told him: "Looking at your case I am satisfied that any right-minded person would look on your behaviour with utter revulsion.
"In the wake of a national disaster you decided to enrich yourself while you masqueraded as a true victim.
"This was not a moment of madness.
"You spent days in accommodation that was set aside for those who were grief-stricken, homeless and no doubt in a state of shock and bewilderment.
"That did not stop you tapping into the funds that had rightly been made available for those people."
The flat in Grenfell Tower he claimed to have lived in never existed but Gamoota used the name of a man who died in the fire and had been named in the press as the backdrop for his fraud.
Gamoota claimed that his father "Abdel Salam" died in the fire. The name was taken from an incorrect spelling from a newspaper report on genuine fire victim Abdeslam Sebbar, who had two sons, and died in the blaze.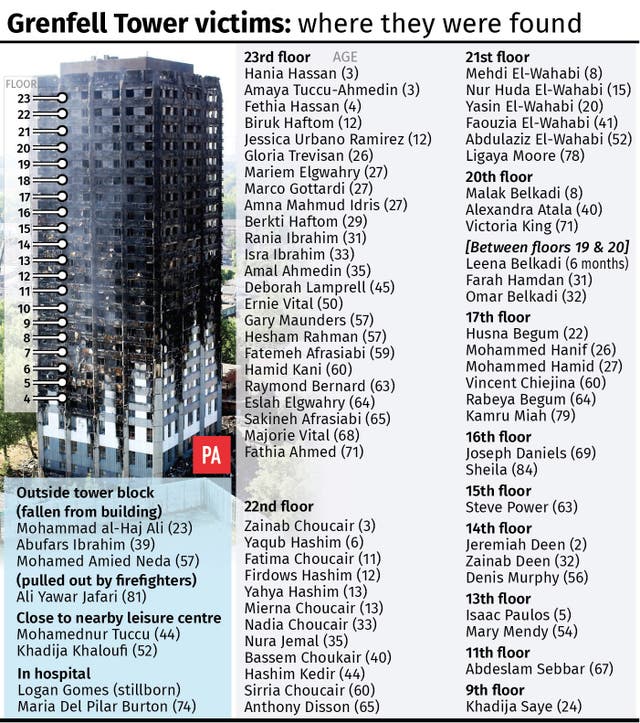 He posed as a resident of the gutted tower block between June 14 and July 29 and made representations to the Royal Borough of Kensington and Chelsea to "dishonestly" gain money and accommodation, according to the charges.
He received £500 emergency money and asked for another £5,000 that was due to survivors.
It was only because of a technical hitch on Gamoota's bank account that £4,500 was returned.
Gamoota was given a room at the Holiday Inn from June 16 to 23 at a cost of £910 and he also enjoyed £374.35 in room service.
Prosecutor Benjamin Holt pointed out that the pain and injury caused by the fraud hit the wider community, including survivors and grieving relatives.
This included Mr Sebbar's grieving son who had to answer police questions for a witness statement as they investigated the fraud.
Grenfell Tower residents also condemned the fraud as "disgusting and distasteful" and stated it has "totally ripped the heart and faith of the Grenfell Tower community".
Resident Manuel Alves said in a victim impact statement: "Words cannot express how disgusted I am that the fraudsters have had the audacity to pull such a stunt.
"They have violated the real victims/survivors by abusing the system that has been put in place to help us.
"The action of these fraudsters have totally ripped the heart and faith of the Grenfell Tower community."
Corinne Simone Jones, who lived on the 17th floor with her young family, said fraudsters like Gamoota made her "frustrated, stressed and angry".
In a statement, she said: "It makes me feel like I had to prove that I lived at that property – that is the last thing I feel that I want or need to do."
She said fraudsters have "caused harm to the community and the survivors", adding: "I find people lying about living in the building is disrespectful and distasteful."
The judge added: "Bearing in mind what she and her family suffered, I consider this remark to be commendably restrained."
The court was told that Gamoota had seen the tragedy as a way to get things for his pregnant partner, but accepts his actions were "foolish and reprehensible".
After sentencing, Kate Mulholland, of the Crown Prosecution Service, said: "This was a premeditated fraud in which Mohammad Gamoota pretended he had lived in Grenfell Tower, when he really lived with his mother in Croydon.
"He searched online news articles to discover the name of an elderly man who died in the fire and then claimed that man was his father who he had lived with.
"When suspicions were aroused, Gamoota disappeared but the prosecution was able to link him back to the fraud."
Kim Taylor-Smith, deputy leader of Kensington and Chelsea Council, said: "Fraud is an issue the council takes very seriously, not just because taxpayers money is being used to support people, but because genuine survivors and bereaved families have raised concerns with us, and we share those concerns.
"Our absolute priority has always been to assist and help first – it is only right that we do so when families are faced with such extreme trauma and tragedy.
"Where officers had doubts, they reported it, and then investigations would take place. Investigating and proving any type of fraud always takes time, and we work closely with the police."
"It is hugely important to me that the public perception of survivors and bereaved is not tarnished by the acts of what is a small minority."