Labour's Diane Abbott has called for an anti-knife crime strategy in London similar to that of Glasgow after a young man stabbed in Hackney brought the total number of suspected murders in the capital to more than 50.
The victim, thought to be in his 20s, was found with fatal injuries by officers on patrol on Link Street, Hackney, just before 8pm on Wednesday.
Despite receiving first aid he died at the scene around half an hour later.
The Met confirmed that they did not receive a 999 call in relation to the attack and were approached by the victim himself.
There have been no arrests and a crime scene stretching 50 metres around the scene remains in place.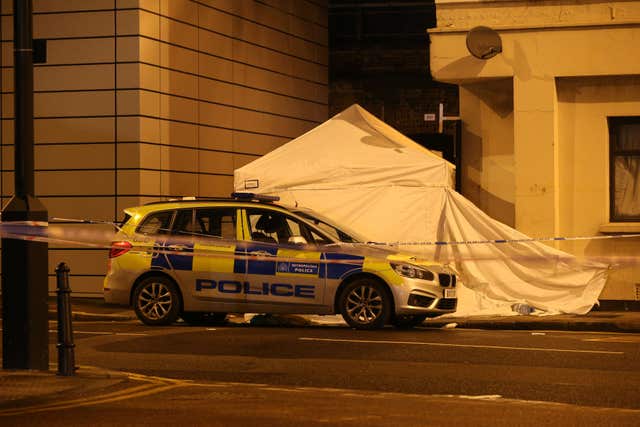 "Whether their son will turn out to be a victim or a perpetrator, it's traumatising for families."
She blamed the wave of bloodshed on London's streets on cuts to policing and youth and social services.
"Here in Hackney we've lost one in 10 of our police officers since 2010, but there also needs to be more work done in youth work, in schools, even in mental health," she said.
She cited the example of Glasgow, which has dramatically cut its murder rate by taking a coordinated public health approach to knife crime through education, youth work and social services.
"They have brought the number of deaths from knife crime down to zero last year," she said.
"It makes it harder for people to report crime but it gives a sense in the community that we are not guarded."
She added that London Mayor Sadiq Khan had no choice but to close police stations because of Government cuts to policing.
When asked about Met Commissioner Cressida Dick's recent comments about social media fuelling knife crime as young people use it to goad their rivals, she replied: "I think social media is a symptom not a cause."
She continued: "I think we have to look at the cuts in youth services, the cuts in policing and the fact that many young people leaving school don't have jobs to go to for the real underlying causes."
Ms Abbott added that the drugs trade was "just one aspect" of knife crime in London.
"I think we have to remember that not all of this is gang related at all, a lot of it is just people who have quite trivial arguments with each other and choose to solve it with a knife attack and that's very frightening," she said.
Elsewhere in Hackney just hours earlier a man in his 50s died outside a bookmakers in Upper Clapton Road following a suspected fight, the Met said.
Stabbings in England and Wales are at their highest levels since 2010/11 and the escalating violence has been especially acute in London, with 13 people killed within two weeks last month.
On Tuesday, 16-year-old Amaan Shakoor became the youngest murder victim in London so far this year after he was fatally shot on Monday in Walthamstow.
His death came after that of Tanesha Melbourne, 17, who was gunned down around 30 minutes earlier just three miles away in Tottenham.
Both were apparently casualties of gang violence.
Scotland Yard said it is currently investigating 55 suspected murders since the start of 2018, including the deaths of two children whose bodies were found in Sussex.