The number of people in work has reached a record high, while earnings have "nudged up" although still growing more slowly than prices, new figures reveal.
Employment increased by 168,000 in the quarter to January to 32.2 million, the highest figure since records began in 1971, giving a joint record rate of 75.3%.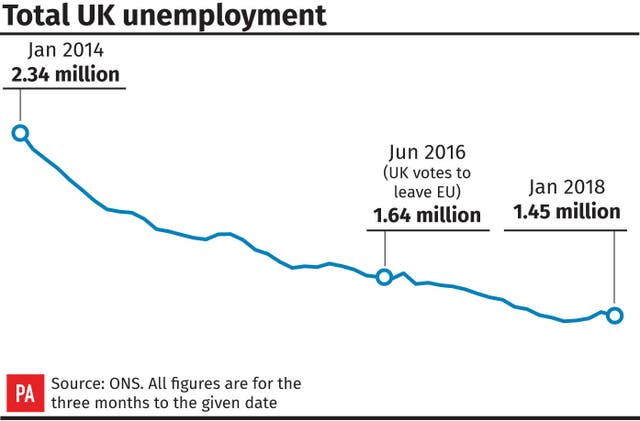 Unemployment is 127,000 lower than a year ago, according to the Office for National Statistics (ONS), and is at a record low for men aged 25 to 34.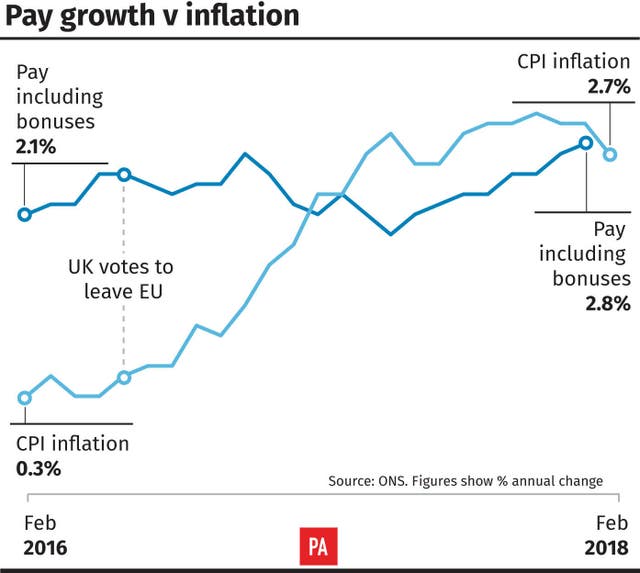 It was the biggest quarterly fall for more than five years.
The claimant count, which includes people on Jobseeker's Allowance and the unemployment element of Universal Credit, increased by 9,200 last month to 837,800, the highest for more than three years.
Average earnings increased by 2.8% in the year to January, a rise of 0.1% on the previous month, and the highest since September 2015.
The figure is 0.6% higher than a year ago.
Job vacancies were up by 10,000 to 816,000.
ONS statistician Matt Hughes said: "Employment and unemployment levels were both up on the quarter, with the employment rate returning to its joint highest ever.
"Economically inactive people, those who are neither working nor looking for a job, fell by their largest amount in almost five-and-a- half years.
"Total earnings growth continues to nudge upwards in cash terms. However, earnings are still failing to outpace inflation."
The number of self-employed workers fell for the second successive quarter – down by 27,000 to 4.78 million.
There were 5.35 million people employed in the public sector at the end of last year, down by 132,000 from September, entirely caused by the transfer of English housing association employees to the private sector.
Public sector employment accounted for 16.6% of all people in work, the lowest since records began in 1999.
Secretary of State for Work and Pensions Esther McVey said: "Getting a job means securing an income for a family and the chance to build a better future. That's why up and down the country we are doing all we can to help people into work.
"And from next month, we'll be taking thousands more people out of paying tax and also increasing the national living wage, benefiting those on the lowest pay and making sure they keep more of what they earn.
"In fact, by raising the national living wage, we have ensured that the lowest earners have seen their wages grow by almost 7% above inflation since 2015."