Russia's ambassador to London has suggested the Government is using the Salisbury poisoning case to divert attention from Brexit.
Alexander Yakovenko said that Britain had put its weight behind an "anti-Russian campaign" as it tried to establish a new place for itself within Western society after EU withdrawal.
Speaking to the Russian state-funded RT television network, the ambassador denounced Britain's decision to expel 23 diplomats as "unacceptable and unjustified".
He repeated Moscow's demands for samples of the nerve agent believed to have been used to poison Sergei and Yulia Skripal, as well as for consular access to the two Russian nationals.
Mr Yakovenko said it was "suspicious" that information about the case, including photographs of the victims, had not yet been released.
"All the investigation about the Skripals is classified," he told RT. "We don't have any information, we don't have any access.
"Nobody saw even the pictures of these people in a hospital – whether they are alive or maybe they are in good health. Nobody talked to the doctors. There is absolutely no transparency in the case, and this worries us."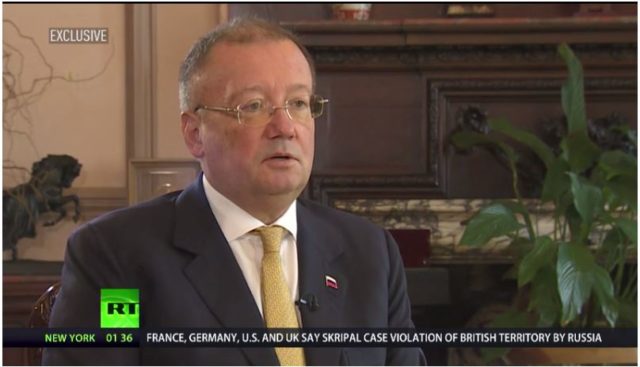 The ambassador said the incident came amid an "anti-Russian campaign" by the UK authorities which saw his country identified as an enemy in last year's national security review and in a high-profile speech by Theresa May.
"Britain in new circumstances is trying to find its new place in Western society, because they are leaving the EU," he said.
He added: "There is one more reason for diverting the attention of the British public, which is Brexit, because the situation in negotiations is not so easy … In order to divert attention from Brexit, they have to present something to the public that could move a little bit to the other side.
"That's a great possibility to launch this anti-Russian campaign. This is a scenario that was written in London but it's a short-sighted scenario because, in the long run, Britain will have to explain what is behind all these things in Salisbury."
Mr Yakovenko said that Britain should "explain what they are doing in this secret chemical laboratory" at Porton Down, which he said was only a few miles from the site of the Salisbury attack.
He said Russia continued to press for samples of the nerve agent identified by British scientists to be handed over to Moscow and to the Organisation for the Prohibition of Chemical Weapons for verification.
"We want to clarify all the questions behind this provocation," he said.
Mr Yakovenko said the expulsion of 40% of his diplomatic staff would make the activities of the London embassy "quite difficult", adding: "This really hurts Russia-Britain relations."
He condemned Defence Secretary Gavin Williamson's call for Russia to "go away and shut up" as "shocking".
He said Moscow continued to want "constructive co-operation" with the UK and would respond with "strategic patience".
But he added: "We are right, we know what we are doing, and the time will come when the people of Britain will understand that they have maybe to have another government or other people who have a better policy towards Russia."