Drivers are being warned they could face major disruption on Tuesday morning as heavy snowfall looks set to blanket Britain and cripple much of the country's travel network.
The Met Office said more than 20cm of the white stuff could settle by Wednesday as a wintry blast, dubbed the "Beast from the East", will cause temperatures to tumble, with the country potentially facing the coldest weather since 1991.
Amber warnings have been issued for snow showers on Tuesday morning, covering the South East and North East of England and the East Midlands.
Forecasters say up to 15cm could fall in just a few hours, with the warnings in place between 2am and midday.
A yellow warning is also in place for vast swathes of the UK for nearly 24 hours from just after midnight on Tuesday.
Met Office forecaster Marco Petagna said there would be some "quite treacherous driving conditions" due to the snow, as many make their way into work.
"Most people will have to travel, but if you don't have to travel – it is best to try to avoid if you can within those amber warnings," he said.
Schools could also be hit by closures due to the heavy snowfall, as school leaders said keeping staff and pupils safe should be a top priority.
Paul Whiteman, the general secretary of the National Association of Head Teachers (NAHT), said: "Schools should stay open if they possibly can but safety concerns are the most important.
"If it's not safe for the school to be open then it is fine to close.
"You have to take into consideration journeys at the beginning and the end of the day, as conditions may change whilst the school is open. It is important that staff and parents can get home at the end of the day as well."
An amber snow warning is in place for the north east of England and Scotland from 6am on Wednesday to 12pm on Thursday, with up to 40cm of snow expected to fall during that period.
Mr Petagna said daytime temperatures would "struggle to get above freezing" across many areas.
"Add on the effect of that wind, and the wind is going to pick up come Wednesday, so it is going to start to feel even colder still," he added.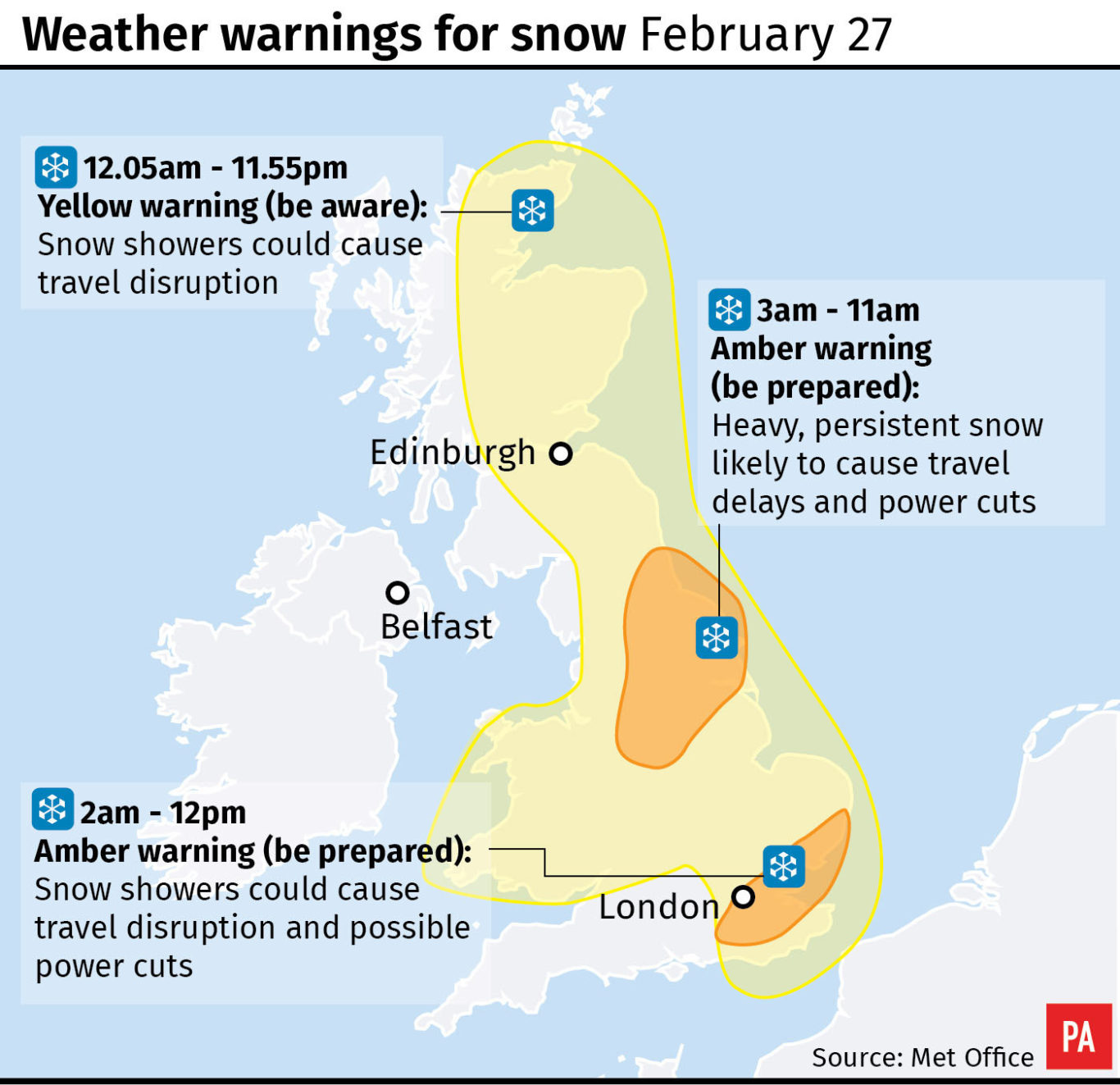 It is expected that the mercury could plummet to minus 15C by midweek where there is snow on the ground, rivalling temperatures forecast for parts of northern Norway and Iceland.
Many local authorities said they were ready to react to the adverse conditions, with Kent County Council even stating all resources would be focused on keeping highways clear.
On Monday, British Airways cancelled more than 60 short haul flights either departing or arriving from London Heathrow in a bid to protect punctuality.
And ahead of Tuesday's snowfall, many airports were advising passengers to check with their airlines before travelling.
Greater Anglia also ended services early to enable trains to return to depots and stations early on Monday, as the provider said limited timetables would be in place on Tuesday – with 200 trains cancelled.
Network Rail revealed it would also be putting heaters and Nasa-grade insulation on to points on the tracks in a bid to prevent ice forming overnight.
The NHS could also struggle to cope with the extra strain caused by the wintry weather, doctors have warned, and people have been encouraged to check on elderly or vulnerable neighbours.
The public have also been asked to look out for the homeless and report anyone sleeping rough in the freezing conditions to their local council.
From Thursday, forecasters predict that another weather system, Storm Emma, will bring blizzards, gales and sleet as it meets the chilly Beast from the East later this week.
The storm, named by the Portuguese Met Service, will move north through Europe and is due to hit the UK on Thursday and Friday, and will be "significantly disruptive", bringing the risk of power cuts and transport delays.