The PA news agency analysed 10 characteristics of each of the 1,373 songs that appeared in the Eurovision Song Contest final from 1956 to 2022.
Here are the main findings:
– Key
Songs in minor keys were scarce in the early years of Eurovision: there were none at all in the contests in 1957-59 or in 1964, though 1961 saw the first minor-key winner (Nous Les Amoureux by Jean-Claude Pascal for Luxembourg).
The proportion of songs in a minor key topped a quarter for the first time in 1965 but did not pass a third until 1979 and it took until 2002 to pass 50%.
Since 2005, over half of songs in the final have been a minor key save for one year (2013), with the proportion climbing as high as 73% in 2021.
There was more variety to time signatures during the first two decades of Eurovision.
Songs not in strict 4/4 time accounted for half of all entries in both 1964 and 1966, and 44% in 1965, but rhythms started to become more standardised in the mid-1970s.
1974 was the first year since 1959 where all songs had four beats to the bar, and 1976 and 1977 both consisted of entries exclusively in 4/4 time.
A pattern had been set: from now on, the proportion of songs not in 4/4 rarely made it above 10% and usually fluctuated between 5% and zero. Notable exceptions were 1996, when 17% of songs were not in strict 4/4 time (including the winner, The Voice by Ireland's Eimear Quinn), and most recently 2018 (12%).
There have occasionally been entries in unusual time signatures, the earliest example being Intet Er Nytt Under Solen by Ase Kleveland for Norway in 1966, which had five beats to the bar.
More recently, Serbia & Montenegro and Macedonia had songs in 7/4 in 2005 and 2007 respectively, while this year's entry from Latvia features sections in 5/4.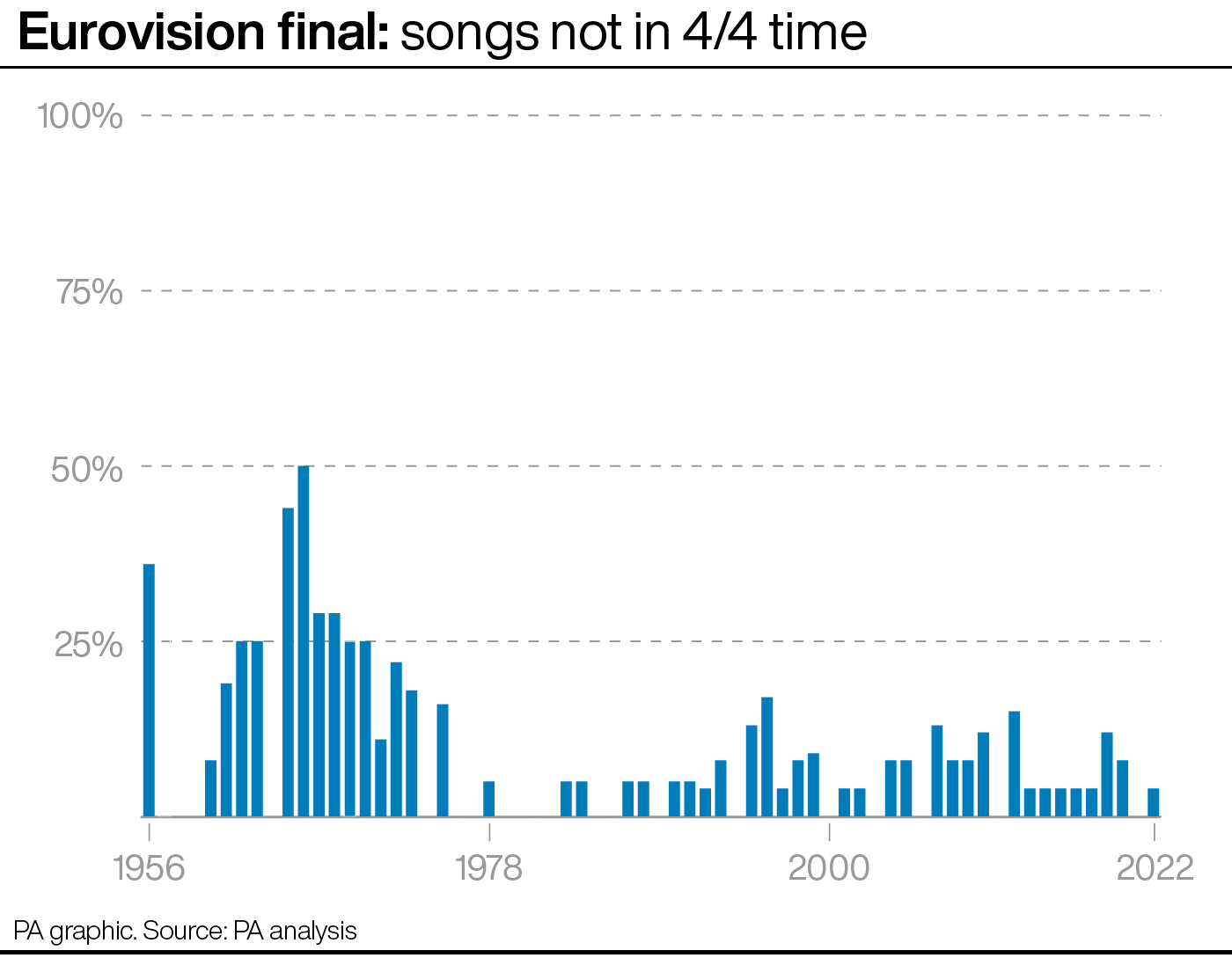 Songs featuring at least one key change – often two or three – were once commonplace at Eurovision.
Their heyday was the late 1960s, appearing in 82% of songs in 1968 and 63% in 1969.
They continued to be prevalent throughout the next few decades, appearing in an average of around half of all songs per year. West Germany's entry in the 1987 contest boasted no fewer than four key changes and there were two in the UK's winning song Making Your Mind Up by Bucks Fizz in 1981.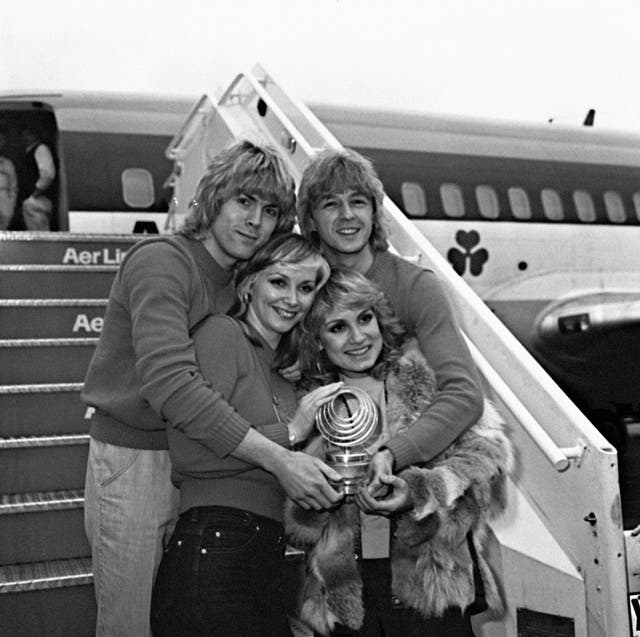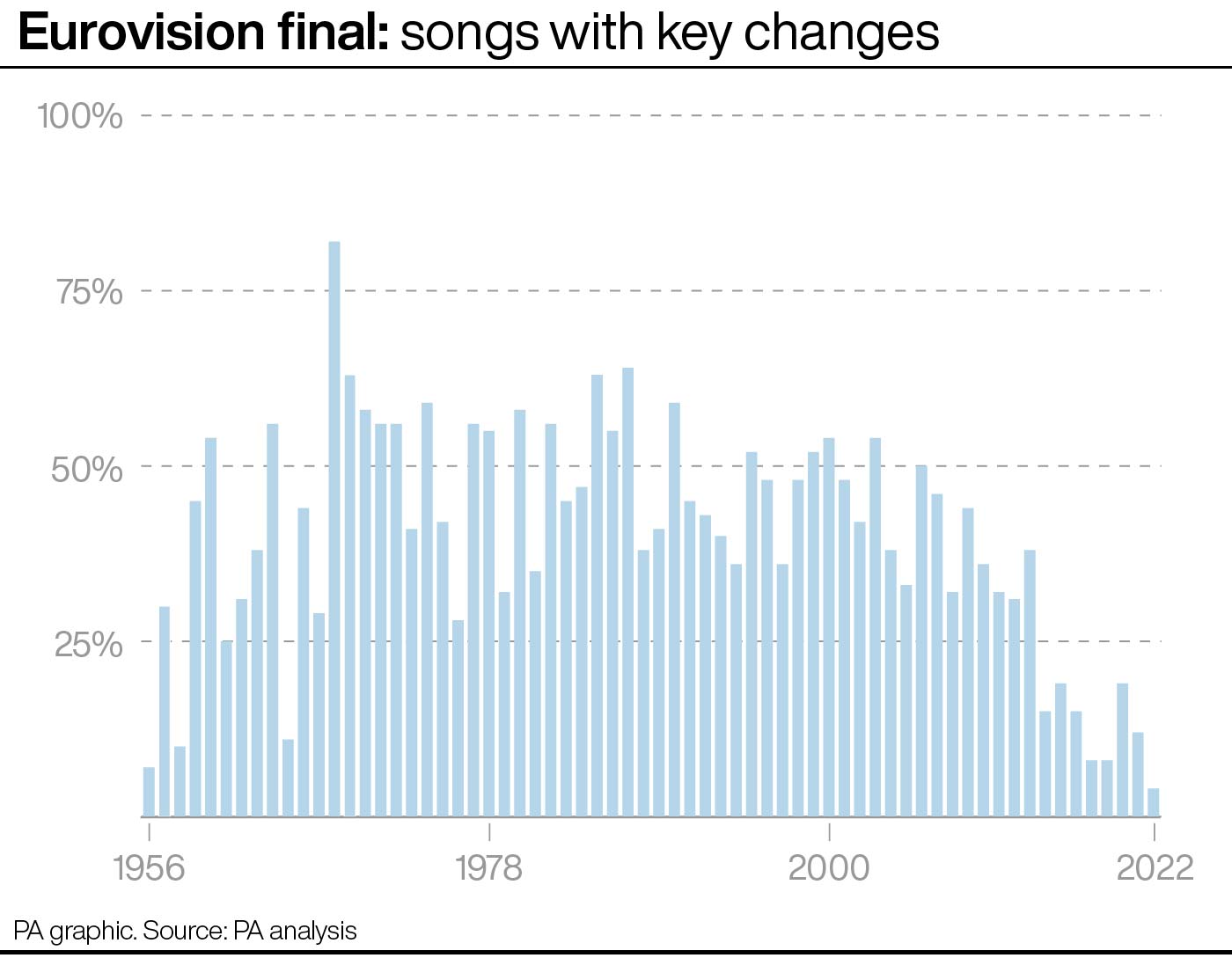 Aside from the first few contests in the late 1950s, there has been a strict rule that no Eurovision song can last for more than three minutes.
This has understandably led to a great deal of consistency in the average length of entries, though not every country has made a point of using its full 180 seconds.
Some years have seen the average duration of songs dip well below three minutes, particularly in the late 1960s when it dropped as low as two minutes 32 seconds (1966), and as late as 1982 the average was two minutes 43 seconds.
Since 1997 the average has never been any lower than two minutes 54 seconds.
– Speed
By contrast, the average speed or tempo of songs in the Eurovision final has always spanned huge extremes.
The very first contest in 1956 featured songs ranging from 63 beats per minute all the way up to 180, as well as songs that sped up or had separate sections in slow and fast speeds.
This variety has persisted through the decades. As recently as 2014 the speeds ranged from 53 beats per minute to 177, while last year's final saw songs as slow as 55 beats per minute and as fast as 142.
– Introductions
The average length of time between the start of a song and the point where the main melody line begins has got shorter.
Introductions averaged 13 or 14 seconds in the early years of Eurovision, dropping to 10 to 12 seconds in the early 1960s before dipping slightly below 10 seconds in the 1970s.
The average rose back above 10 seconds for much of the 1980s and 1990s, only to fall sharply this century: since 2013 it has has always been under 10 seconds and since 2015 it has always been five seconds or lower, touching four seconds in both 2018 and 2021.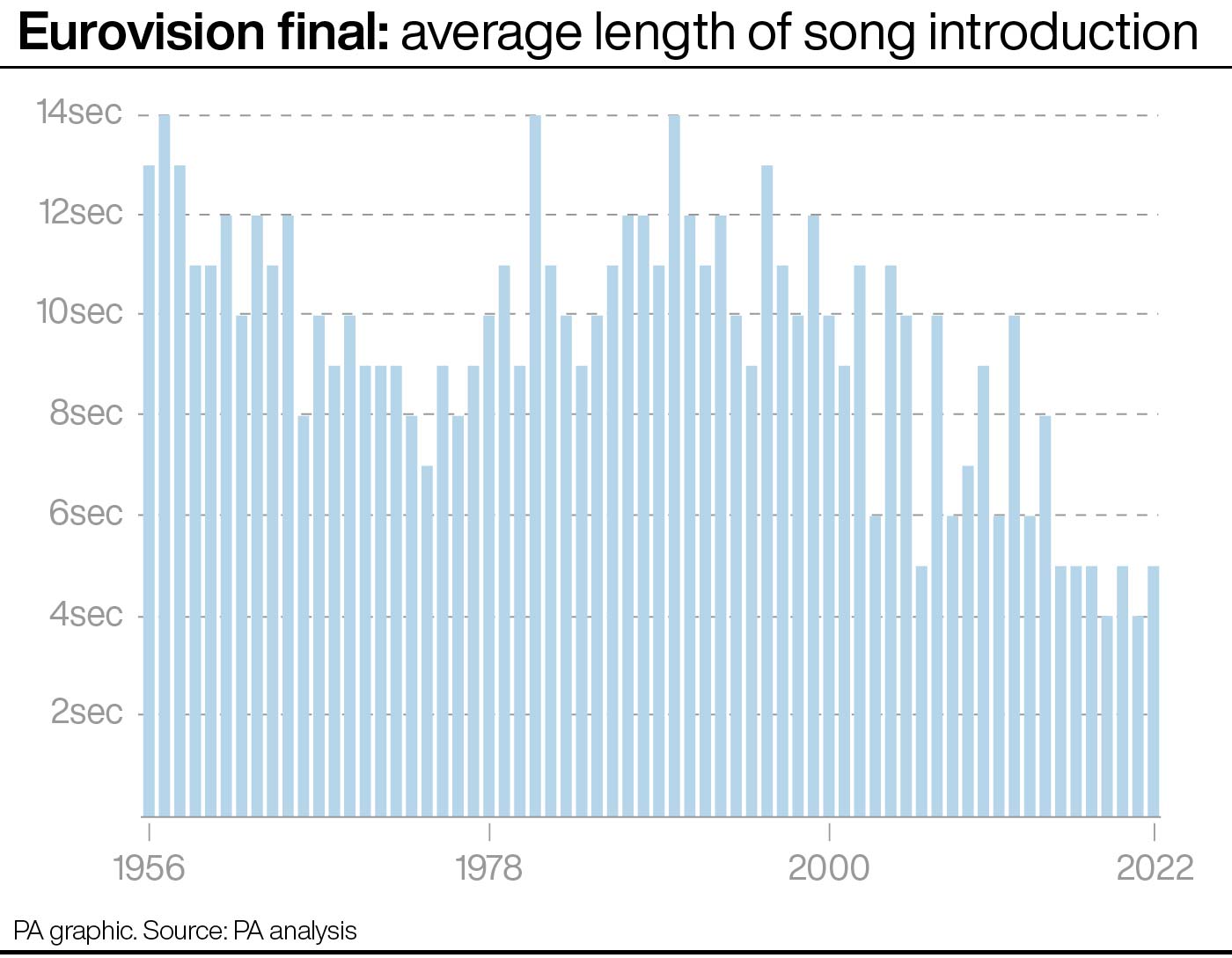 The phrase "la la la" was cemented in Eurovision folklore when Spain won the contest in 1968 with a song titled precisely that: La La La.
In both of the following years, 1969 and 1970, 25% of entries boasted "la la la" in their lyrics: the highest proportion in the event's history.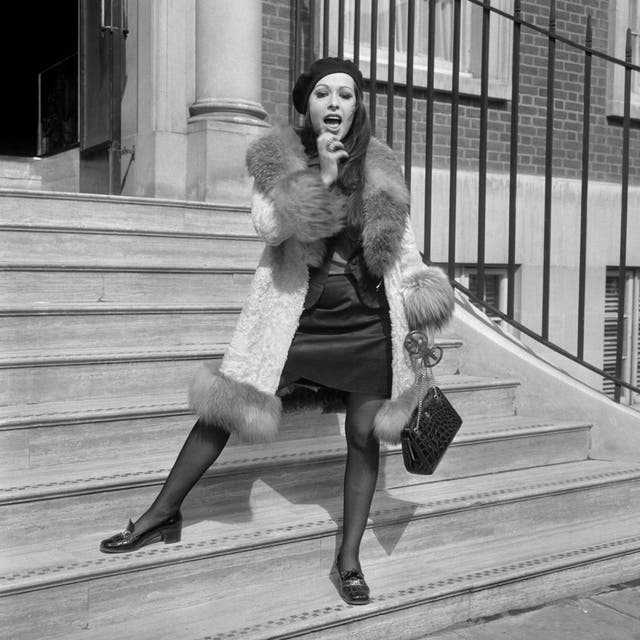 Since then, the "la" has more or less much vanished, save for a few fleeting appearances, such as 8% of songs in both 2012 and 2022.
This year will be the 16th so far this century with no sign of a "la".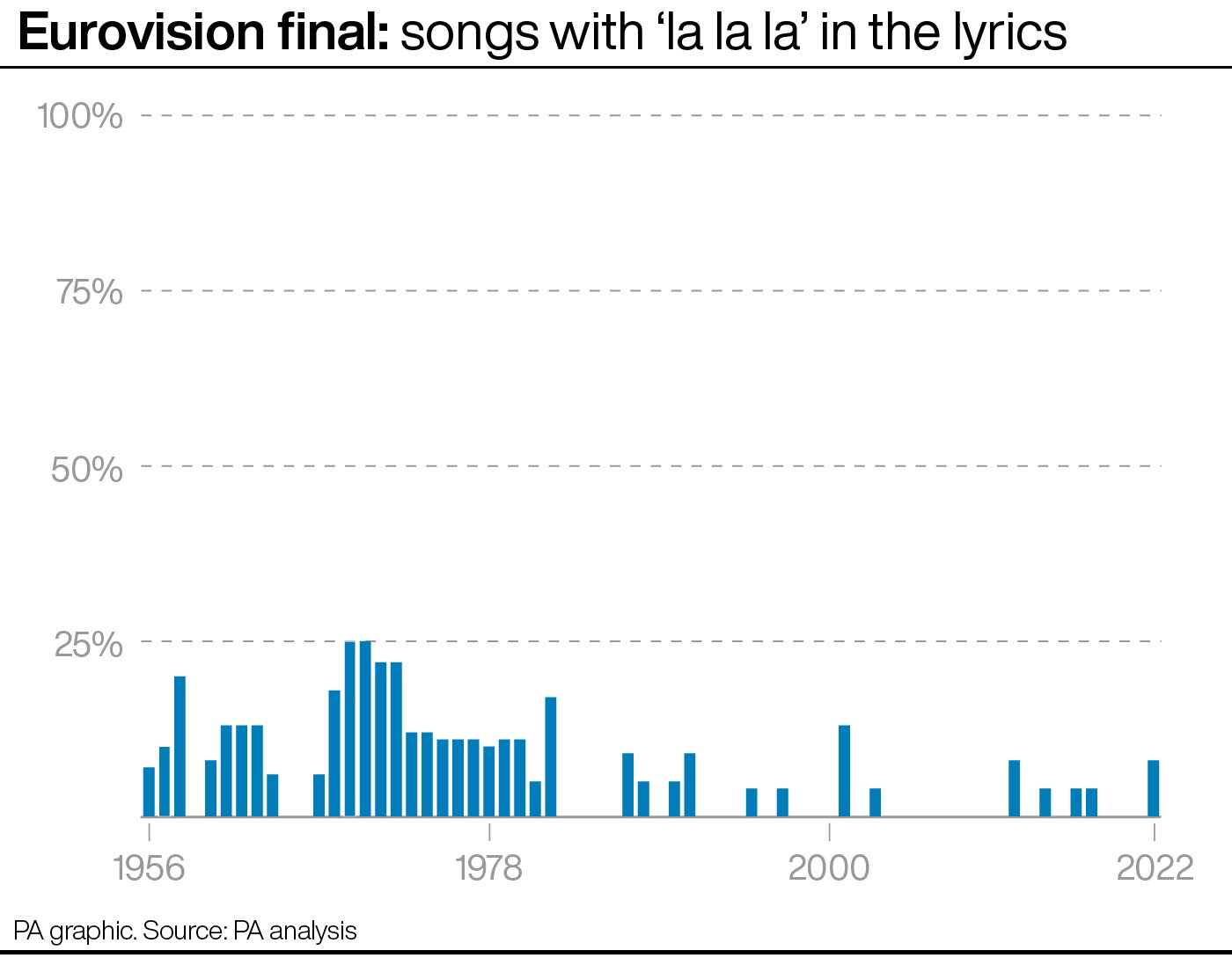 From the outset, Eurovision has boasted a strong mix of female and male artists.
Women performed 11 of the 14 songs in the inaugural event in 1956 and there have been only nine years in the entire history of the contest where male-only acts have been in the majority – five of them occurring this century, including 2022.
– Ethnicity
It took until 1966 for the first non-white performer to appear in a Eurovision Song Contest final: Milly Scott, who sang the Netherlands entry, Fernando En Filippo.
Since then, the contest has slowly become more diverse in terms of ethnicity, though all-white acts have typically made up at least 75% of all entries.
There have been only two occasions so far when this figure has dropped below 75%: 1999 (74%) and 2021 (73%).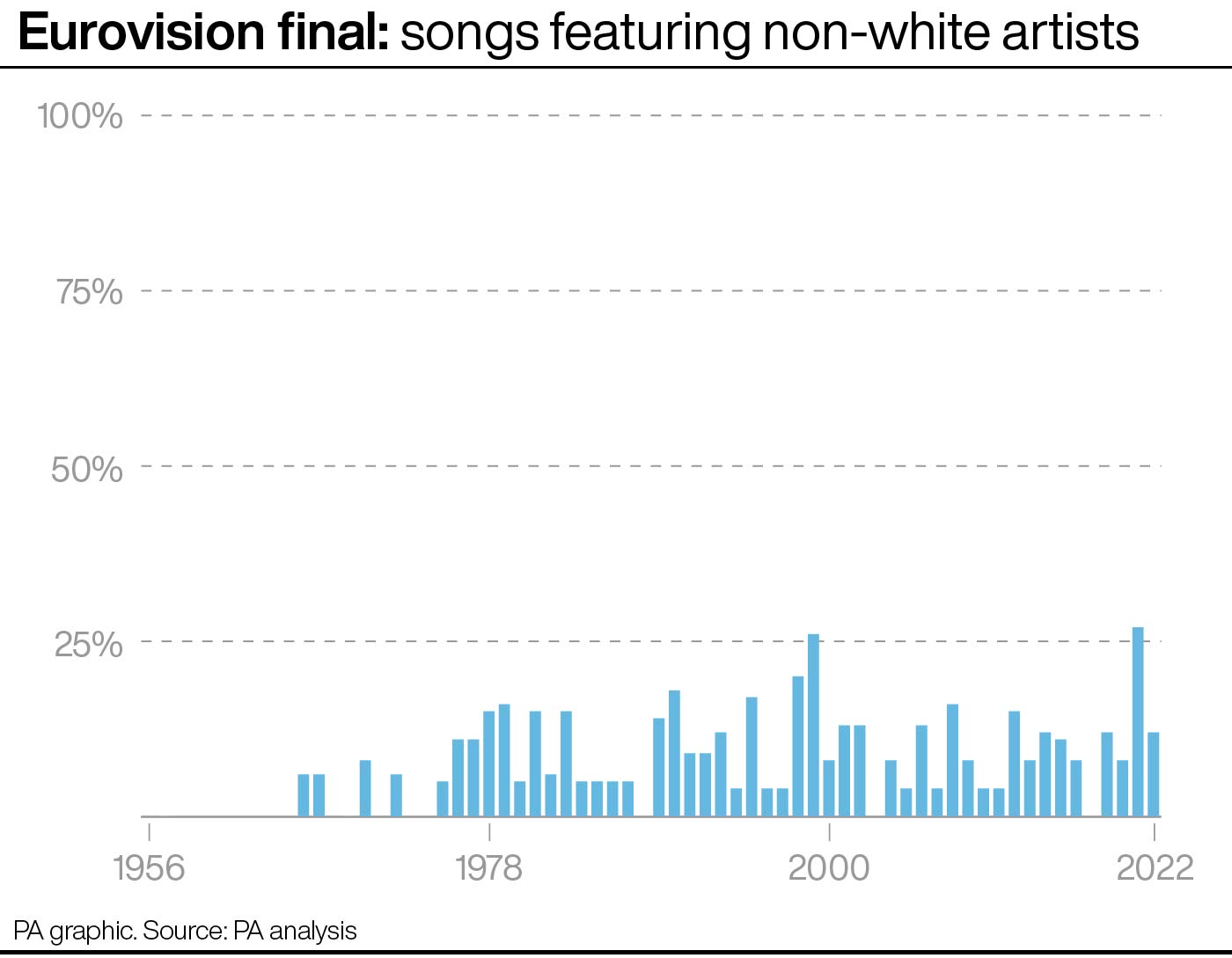 Groups were not allowed to compete in the contest until 1971, before which only soloists or duos were permitted.
1972 saw acts with more than one member comprise 50% of all entries: a sharp jump on previous years and a level that was reached again in both 1977 and 1978: the highest proportion to date.
Multi-member line-ups remained a popular choice for much of the 1980s, before solo acts came into fashion from the 1990s onwards.
This century has seen only three years: 2000, 2005 and 2007 – when acts with more than one member have made up over 40% of entries in the final.