Rihanna stunned crowds at the 2023 Met Gala in an extravagant bridal gown inspired by French fashion house Chanel.
The Barbadian singer – who is pregnant with her second child – arrived over an hour late to the event in New York on Monday with her partner Asap Rocky.
Marking the unveiling of the Metropolitan Museum's exhibition Karl Lagerfeld: A Line of Beauty, the Met Gala brings together A-listers across fashion, television, sport, film and music.
Lagerfeld was creative director of Chanel from 1983 until his death.
The bride is a major symbol of the fashion house, which historically closes its couture show with a white wedding outfit.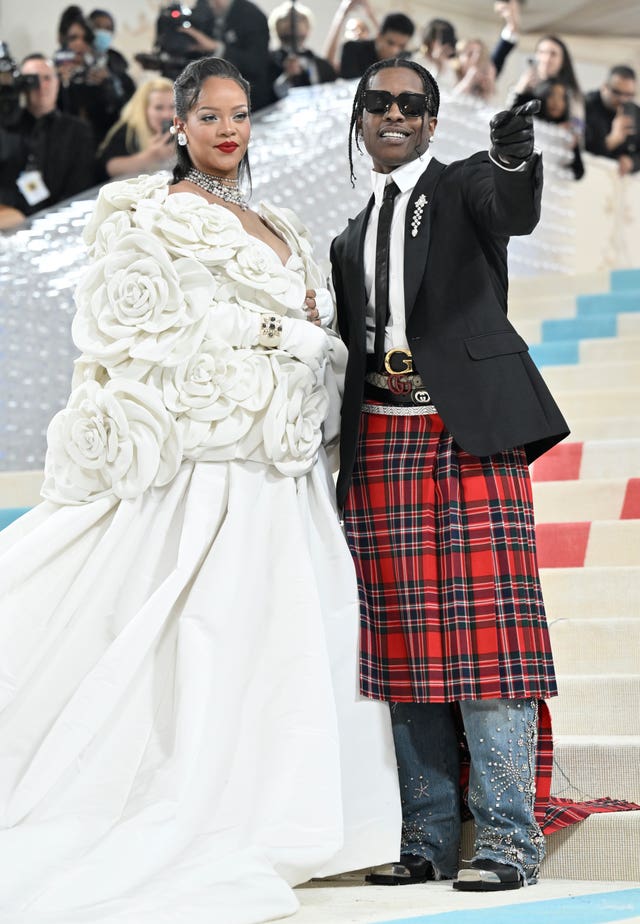 She accessorised the bold outfit with white sunglasses featuring 3D lashes.
The singer later undid the hood of her ensemble and turned it into a loose jacket, revealing a simple white dress underneath which displayed her baby bump.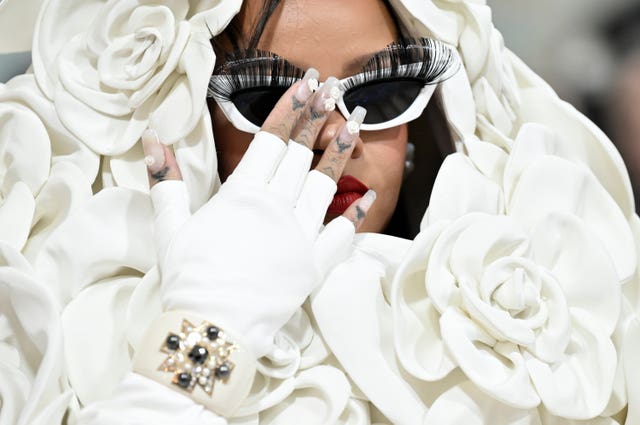 Some of the biggest names in fashion and show business attended the event including Kim Kardashian, Cara Delevigne, Emily Ratajkowski, Cardi B and Florence Pugh.
Recently announced as the newest ambassador for Italian fashion house Valentino, Pugh wore a dramatic white gown with a long train trailing across the carpet by the brand.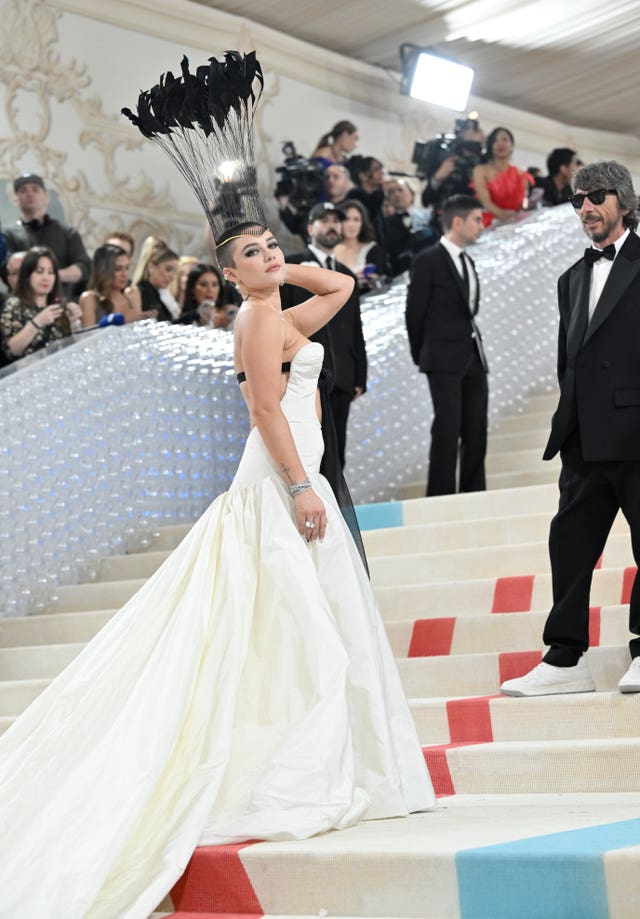 Pugh said she had undergone her transformation for her upcoming film We Live In Time, in which she stars with Andrew Garfield, and that she had kept it a secret for "about three weeks" ahead of the dramatic reveal.
This year's Met Gala was co-chaired by British stars Dua Lipa and Michaela Coel, as well as Penelope Cruz, Roger Federer, and Vogue editor-in-chief, Dame Anna Wintour.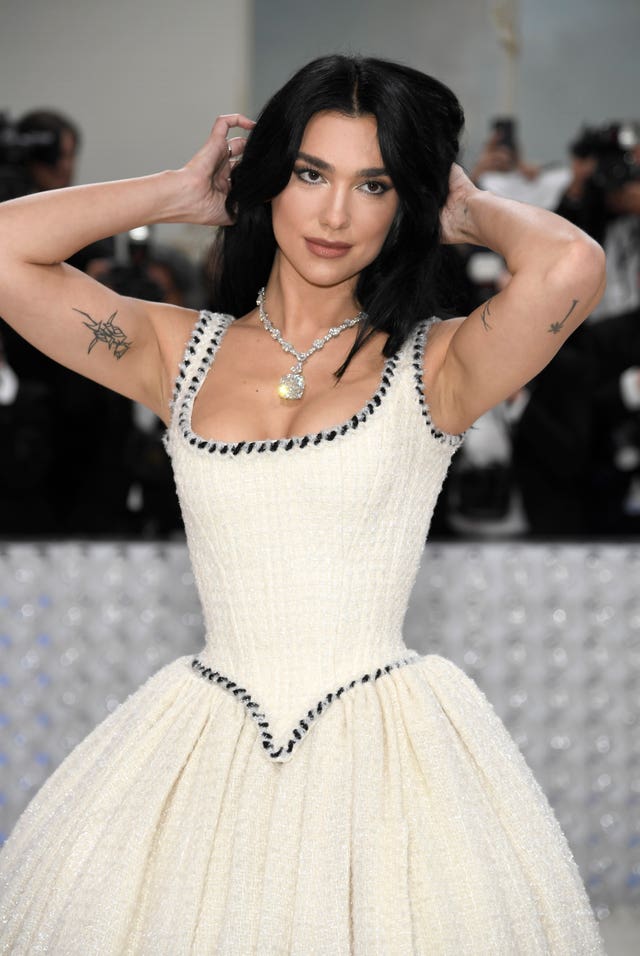 "It's a big responsibility and a big honour and I feel very lucky that Anna asked me to do this to honour Karl's night, and his legacy," the pop megastar told Vogue, speaking on the event's carpet.
The singer's white dress – in Chanel's signature tweed fabric – had a corset bodice, black trim and fringing at the hem.
German supermodel Claudia Schiffer originally wore the design in the early 90s.
She said that wearing the archival Chanel item was "a dream come true".
Wearing a surrealist design by Schiaparelli, Coel's brown dress was heavily embellished with plenty of nods to Lagerfeld hidden among the design – which featured 130,000 crystals.
"I'm just a tourist in this industry – I'm here to serve," she told Vogue.
Elsewhere tributes were paid to Lagerfeld through various outfits, with stars recalling their personal experiences of working with the renowned fashion designer prior to his death.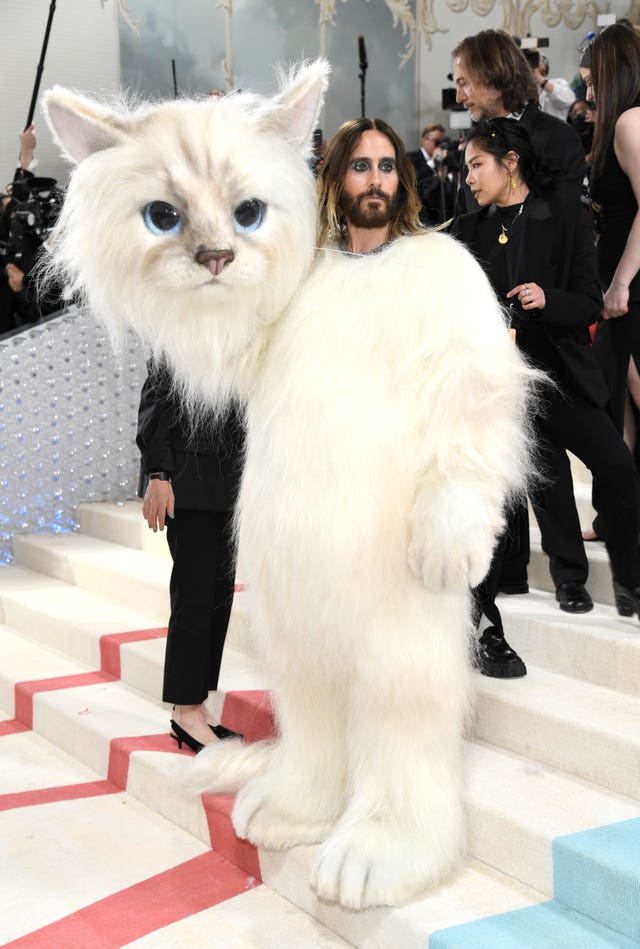 Famous faces also appeared to honour Lagerfeld's beloved cat Choupette with their ensembles.
Outfit's ranged from the full-body suits and prosthetics of Doja Cat, to the enormous fluffy white cat costume of Jared Leto.
Dame Anna, who arrived at the event with veteran actor Bill Nighy, also wore a coat that seemed to have small cat motifs embroidered on it.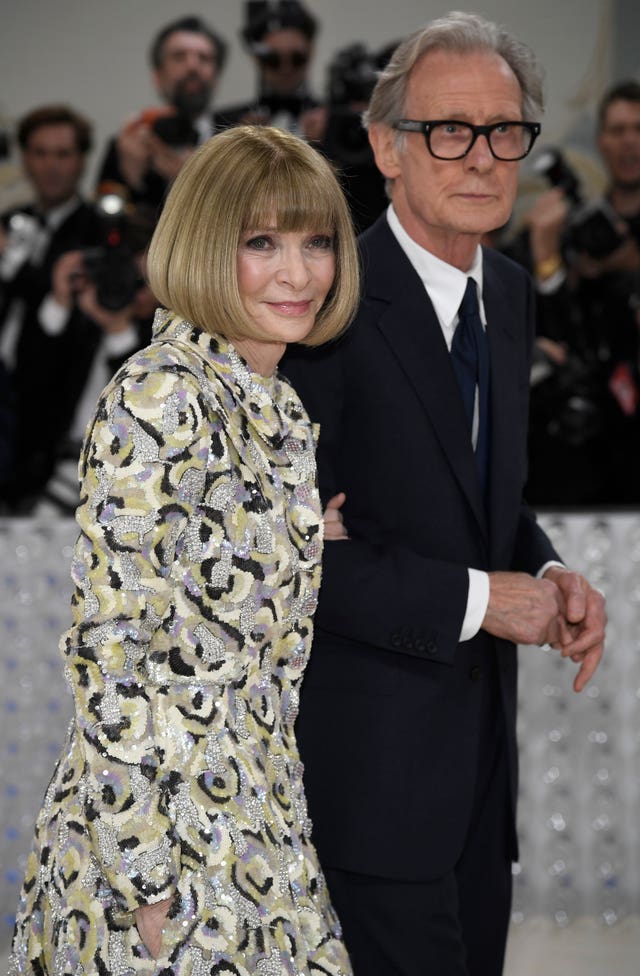 Speaking to Vogue on the carpet, she said: "It's a very emotional night for me.
"I love Karl so much and it's just wonderful to see so many people who are turning out to honour him, and give him the recognition that he so deserves.
"Karl was just was so creative, so visionary… (he) invented so many things and at the same time I think was intrinsically the chicest designer that you can ever imagine."