Doja Cat lived up to her reputation for eye-catching and experimental looks at the 2023 Met Gala, in an outfit that appeared to be inspired by Karl Lagerfeld's beloved pet cat, Choupette.
To attend her first Met Gala the rapper wore cat-inspired prosthetics on her face, cat-eye make-up and a diamond hanging on her forehead.
With a silver skintight gown by Oscar de la Renta, the outfit had a feathered train, backless design and a built-in head covering with cat ears.
"I feel nice, I feel relaxed here. Maybe it's the beige. I feel very calm, it's very nice," she told Vogue, signing off her interview with a soft "miaow".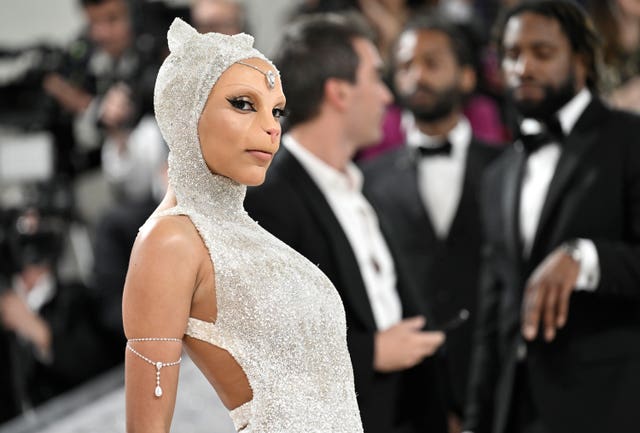 For the Schiaparelli haute couture fashion show in Paris in January, Doja Cat covered her body in red paint and 30,000 Swarovski crystals, worn with a strapless red gown.
The crystals were attached to her head and body and she also wore a red silk bustier and a hand-knitted skirt of lacquered wooden beads and boots.
She later used fake eyelashes to raise eyebrows, using the wispy false lashes over her chin and top lip to create a comical-looking beard and moustache.
The look was seemingly inspired by comments about an outfit Doja Cat had worn earlier in the week, which featured shaved eyebrows.
"If lashes are what you all want, lashes are what you'll get," the rapper wrote on her Instagram story ahead of the event.