Through his wildly successful TV show, Jerry Springer turned warring families and dysfunctional relationships into visual entertainment for the masses, helping to create a new idea of celebrity.
The US broadcaster and politician, who has died aged 79, was a campaign adviser to Robert F. Kennedy, worked as a journalist and served as mayor of Cincinnati in the state of Ohio.
But he will be best remembered for hosting The Jerry Springer Show, which ran from 1991 until 2018 in the US.
Its most memorable episodes tackled issues including infidelity and incest and featured titles such as I Married a Horse and I'm Happy I Cut Off My Legs.
Gerald Norman Springer was born on February 13 1944 in a London tube station being used as a Second World War bomb shelter
His parents were German Jews who fled the Holocaust, and he later spoke about how many of his relatives were killed by the Nazis in concentration camps.
Springer arrived in the US aged five and his family settled in Queens, New York City.
He studied political science at Tulane University in 1965 before going on to Northwestern University.
His political career began when he was hired as a campaign adviser to Democrat Robert F. Kennedy.
Springer ran unsuccessfully for Congress in 1970 but was elected to the city council the following year.
A scandal relating to allegations he was using prostitutes failed to derail his upward progress – he won a council seat in 1975 and was made mayor in 1977.
It was in 1991 that he launched his eponymous talk show and upended the TV landscape.
What began as a relatively traditional format, dealing with political issues including homelessness and gun ownership, transformed in early 1994 when Springer and his new producer, Richard Dominick, revamped the format in a bid to boost ratings.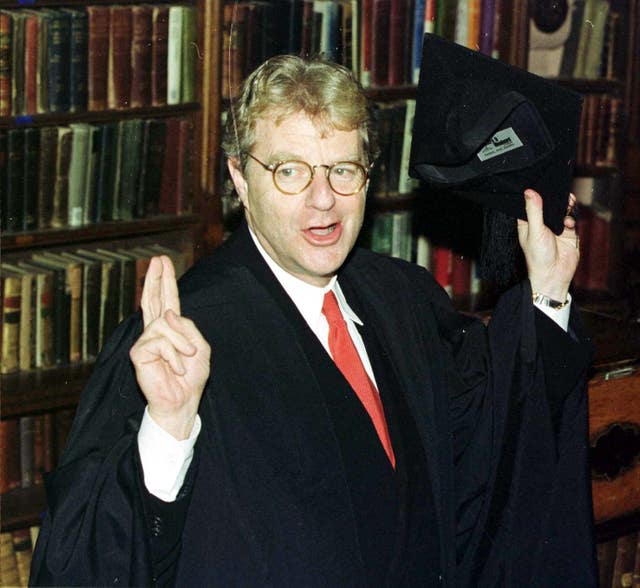 It even topped US publication TV Guide's list of Worst Shows In The History Of Television.
Springer retired the format in 2018 after some 4,000 episodes, and started a new programme with NBCUniversal called Judge Jerry.
He remained a regular on TV, appearing on the BBC's Who Do You Think You Are? tracing the Springer family through the Holocaust to the small town of Neustettin, now in Poland.
In 2003 Jerry Springer: The Opera, written by Richard Thomas and Stewart Lee, debuted in London.
Featuring all the tropes of the TV show plus a troupe of tap-dancing Ku Klux Klan members, it won numerous awards including four Oliviers.
In June 2009, Springer made his stage debut as Billy Flynn in Chicago at the Cambridge Theatre, London.
Springer later admitted his TV show had been a "circus" and "nuts" but he also defended its more extreme content.
"In any population of 50,000 people you are going to have some people who are mean, some people that are crazy, some people that are racist, some people that beat their spouse," he said at the Edinburgh TV Festival in 2019.
"You can have all kinds of people."
He also starred in 1998 comedy Ringmaster, where he played a fictional version of himself, and made brief appearances in 1999's Austin Powers: The Spy Who Shagged Me and 2005 action flick Domino.
In October 2022 he was unmasked on The Masked Singer, as a Beetle, in the US reality series which sees celebrities secretly compete as singers in outlandish costumes.