US filmmaker James Gunn said Guardians Of The Galaxy has been "all encompassing" for more than a decade of his life, and described finishing the trilogy as a "big relief".
The third and final instalment in the Marvel franchise will see the return of Chris Pratt, Dave Bautista, Zoe Saldana, Karen Gillan, Pom Klementieff and Vin Diesel – and is set for UK release on May 3.
In a press conference at Le Bristol hotel in Paris on Sunday, film director Gunn said: "Over the past 11 years of my life, I think I have probably spent 60% of my time thinking about the Guardians Of The Galaxy.
"So this has taken up my entire life.
"There is a weird situation where I just have to adjust everything about my world to be about something other than the Guardians, which is difficult.
"But it's frankly a big relief also, to feel like we've finished this trilogy, and we finished it in a way that we're really proud of, where all the characters get the dignity they deserve."
Gunn said the character Rocket Raccoon's story is the "heart of this trilogy for me", and the film has "brutal elements to it" in order to tell the story properly.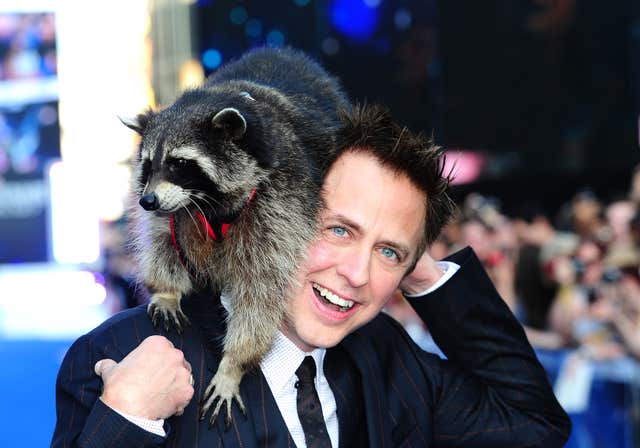 Gunn revealed he had taken inspiration from each actor to develop the personality traits of the characters throughout the trilogy.
The 56-year-old said: "I think it's an interesting thing when you work with people for so long, on such long shoots, you become friends with them outside of that process and you get to know them on a molecular level.
"So it makes the movies naturally in some ways more interesting, because I know how funny Karen is and so Nebula all of a sudden has a humorous streak that she didn't have in the first movie.
"I know that Zoe has this way to be so focused on one thing and just be there and so it makes much more of a tougher, crazier, meaner character in this movie, because I know what she's able to do and how cool she is."
He said: "Getting to know each of these people, seeing their children being born, attending their weddings, being a part of their lives in a real way.
"That's an extraordinary thing that we get to do and kind of rare I think because there's not a lot of jobs that put you into the pressure cooker situation to create strong relationships between people.
"It's a crucible in which you're going to forge very tight bonds with people."
The Hollywood actor, 43, later praised Gunn as a director who is "always prepared", works tirelessly and "doesn't shut his mind off".
He said: "For these films in particular, he's a student of the comic book films and the canon of comic books that have existed in Marvel and in DC and outside of that.
"I stayed at his house while I was working on a film recently, and he's got a library of comic books, all of the indexes are well worn.
"He reads this stuff, he lives and breathes this stuff."
Pratt also described him as incredibly articulate, empathetic and a misfit who "wants to tell the story and the heart of the misfit".