Jude Law says he was faced with the challenge of portraying a "believable killer in a kid's movie" as he stepped into the role of Captain Hook.
The award-winning actor said he had threaded back story into his character to show the fearsome pirate "as a human" and explain his "wrong choices".
Law stars in Disney's upcoming movie Peter Pan and Wendy, alongside Yara Shahidi and newcomers Alexander Molony and Ever Anderson.
Speaking at its rainy London premiere on Thursday, Law told the PA news agency he had to make the character "believably scary".
"In the book Hook only makes a very brief appearance," he said.
"He's described in, like… only two chapters, but two sentences really stuck to me. One was that he killed his own crew with ease, and the other was that he was the only pirate that Long John Silver fears.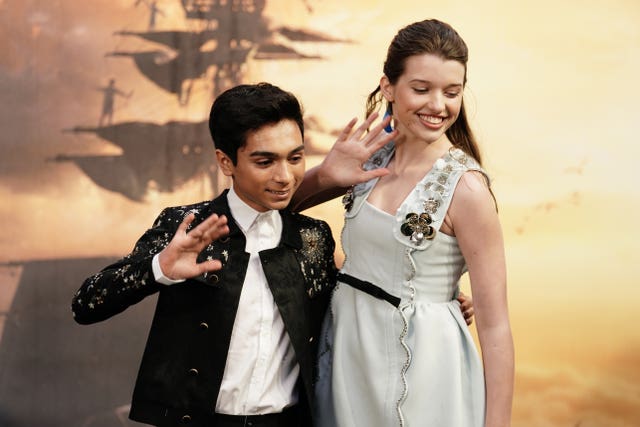 He continued: "Luckily, (director) David (Lowery) gave me an opportunity to thread in his back story that explained some of the damage that had been done, the scarring inside and out.
"And I hope that both allowed me to play someone scary but also explained (him) maybe as a human and wrong choices he had made."
The film's young stars encouraged other aspiring actors to "never give up on your dreams" as they spoke of their excitement in landing their parts.
"I never thought I'd get the part of Peter Pan, but I did."
Anderson added: "Never give up on your dreams. It's tough, it's really tough but if you stick with it and believe in yourself, you really can achieve anything.
"Don't be scared to look stupid, was the best piece of advice I was ever given."
Peter Pan and Wendy is set for release on Disney+ on April 28.