The sister of murdered journalist Lyra McKee has said her death proves the promises of the Good Friday Agreement have not been "completely fulfilled" and more needs to be done to ensure "peace in our land".
The 25th anniversary of the agreement, signed in Belfast on April 10 1998, is being marked by those in Northern Ireland, the Republic of Ireland and with a visit from US President Joe Biden.
Nichola McKee Corner appears in an intimate Channel 4 documentary, from Bafta-award winning documentarian and close friend Alison Millar, about the life and death of her sister, who was shot dead in 2019.
Ms McKee Corner told the PA news agency: "The Good Friday Agreement really was a door opener. It didn't just mean, 'OK we signed this and now we have got peace'. That is not the way it has played out over these past 25 years. The very fact that Lyra is not here is proof to that.
"While it should be commemorated, I think that we are very premature to celebrate. I think absolutely that there have been big changes. Obviously the biggest change is thousands of lives have undoubtedly been saved because if you think about the 30 years before, nearly 4,000 people lost their lives.
"That is not including the suicide victims, that is not including people who died through trauma-related illnesses. Let's not also forget all of those 3,700 families – there are tens of people in those families all negatively impacted and living with the scars of their loved one's loss. There is no doubt that thousands of lives have been saved.
"But as I say, the very fact that Lyra isn't here shows that the promises of the Good Friday Agreement haven't been completely fulfilled and that we have got a long way to go to actually be able to celebrate peace in our land."
The film sees Ms McKee growing up in 1990s Belfast, using text messages and home video footage as well as intimate access to her mother, sister and partner to capture their grief and quest for justice in the days and months following her death.
Ms McKee Corner said it was "very important" for people to see "the young person, the wonderful young person, behind the headlines, and for people to get to know her as a person".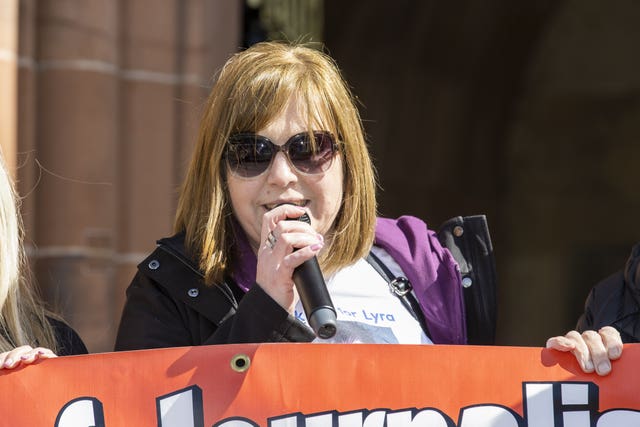 "Because she has left us with that job, taking that job forward, to try and make change on her behalf because she is no longer here to be able to do it herself."
Ms McKee Corner said Ms McKee was not only interested in writing about suicide rates in Northern Ireland and LGBTQ rights but "all manner of social things".
"The reason for that lies in the fact that she was such a caring, humanitarian, empathetic person," she added.
Bafta-winning documentarian Millar told PA she hoped the film would "inform and show that the majority of people here want peace, they want a better life".
She added: "As Lyra said in one of her writings, 'I don't care much for a stronger union or united Ireland, I just want a better life' – and I think people just want a better life.
"They want their politicians to be working for education, for health. They want everything that we all need in life."
Lyra airs on Channel 4 at 9.25pm on April 15.