Artist Alberta Whittle has said she hopes her new exhibition will spread a message of hope amid the challenges of tackling racism.
The artist, whose free exhibition opens in Edinburgh on Saturday, said she wanted to explore the themes of "care and compassion" and the importance of community in galvanising change.
Alberta Whittle: create dangerously, at the Scottish National Gallery of Modern Art (Modern One), is the largest exploration of the artist's work to date.
It offers a survey of her work, featuring sculptures and installations, digital collages, drawings and watercolours, and new pieces made especially for the show.
It also features two works which were at the heart of the Barbadian-Scottish artist's critically-acclaimed exhibition at the 59th Venice Biennale in 2022, where she represented Scotland.
Whittle said the exhibition has a "hopeful message".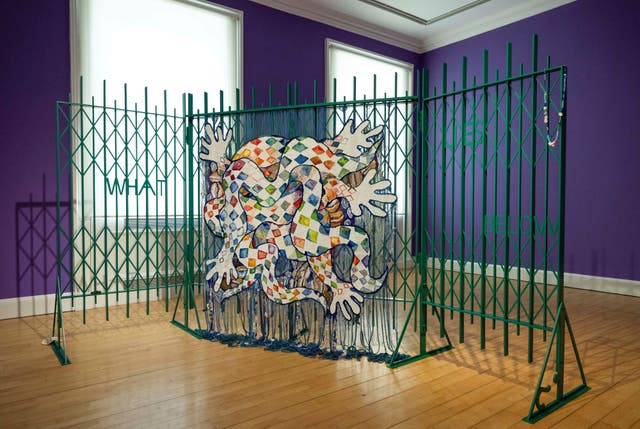 "Because I really think that whilst we embark on doing this work of abolition, anti-racist work, it's so important that actually we really sit in community together so that we can find new ways of listening better, of understanding the harm that is caused, but also of really trying to think how we can create strategies of restructuring.
"And also about how we can galvanise change, and it's really my opinion that this work really begins at home in conversations with other groups that you're close to, with communities."
The artist, who studied at Edinburgh College of Art and now lives in Glasgow, said it feels "really special" to have the work on show at the gallery, and that having the work from Venice return here feels like a "homecoming".
National Galleries of Scotland (NGS) said that through "powerful and poetic storytelling", the artist confronts the violence of colonialism, the legacies of the Transatlantic trade in enslaved people, and impact of the climate crisis.
Two of works shown in Venice – the tapestry Entanglement Is More Than Blood and the film Lagareh – The Last Born – have been acquired for the nation by NGS.
Lagareh – The Last Born, which contains references to Sheku Bayoh, who died after he was restrained by police in Kirkcaldy, Fife, in 2015, was filmed on location in Scotland, London and Barbados, and features footage from Sierra Leone and Venice.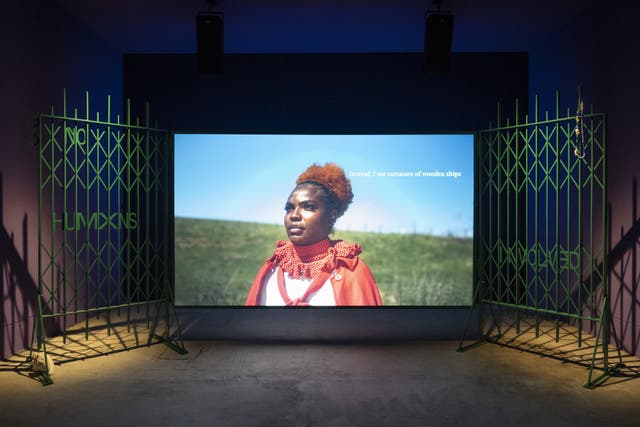 She said: "For the past few years with the rise of Black Lives Matter, we've witnessed so many instances of black people being murdered by the police but they really only seem to be highlighted in the US.
"I was very disturbed when we saw the murder of George Floyd unfold in the US, but yet there was very little conversation about Simeon Francis who had actually died the week before, and I think there's almost like a misunderstanding that these issues of police violence only happen in the US, overseas but not actually on home shores, and the fact is it is a really big issue still."
Entanglement Is More Than Blood, which was co-commissioned and created in collaboration with Dovecot Studios, Edinburgh, is a large-scale tapestry on a gate-like structure.
Imbued with the artist's symbolism, including water, snakes, diamonds, hands and shells, it explores the meaning of family, kinship and ancestral histories.
Lucy Askew, chief curator of modern and contemporary art at NGS, said: "This hugely important exhibition, devoted to the work of one of the leading artists working in Scotland today, is underpinned by Alberta's deep generosity and warmth.
"Alberta speaks of fundamental truths about the violence and injustices of our past – 'the burden of proof' – and the legacy of systemic racism which permeates through our society today, asking us to confront this with her.
"With compassion and care, she holds and guides us, encouraging us to pause, to breathe, and to think differently."
The exhibition runs from April 1 until January 7 next year.