Dog treats and flowers have been laid in tribute to Paul O'Grady outside the gates to his farm in a quiet Kent village as neighbours described him as "wonderful".
Residents of the country road in Adlington spoke of the "real loss" they felt at the 67-year-old TV personality's unexpected death.
More than a dozen members of the public arrived to lay bouquets of flowers, and even a large bag of Pointer bone-shaped treats, on a misty Wednesday morning before the tributes were taken inside.
Flavia Corfini, 58, drove almost an hour from King's Hill, near West Malling, to lay flowers.
She said: "I felt very sad, and I was off today so I thought I'd come for a little drive out.
"For me it felt like the right thing to do."
Ms Corfini, who runs a cat rescue community group, said she felt her and O'Grady were "kindred spirits" as a fellow animal lover.
Another woman, from Stockport, she was on holiday in Kent and wanted to come to pay her respects.
Neighbour Fred Jaeger, who had known O'Grady since he moved to the area around 20 years ago, said: "He was a wonderful man, we were very fond of him. He was very entertaining and we shall miss him greatly."
Another neighbour said: "Paul was a very inspiring gentleman, a great giver to the village (and) was always going out of his way to help wherever he could in the village and give it a stable environment.
"He was a lovely neighbour, loved his animals, always a great guy to talk to and a real loss for us all."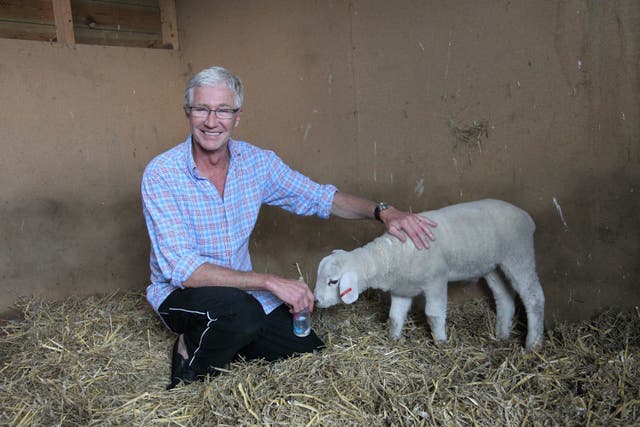 He kept animals including dogs, three goats, six sheep, six pigs, chickens and barn owls.
In a six-part ITV series called Paul O'Grady's Great British Escape, he described why he loved living in the "Garden of England".
Speaking about the series to ITV, he said: "It's such a beautiful county and I think it's getting overlooked.
"Kent's image as the Garden of England – it still is, and I've lived here over 20 years now and I absolutely love the place."